New Nethuns ScubaPro 500 Arrives
Posted: Thu Jan 18, 2018 1:45 pm
Nethuns ScubaPro 500
I never really paid much attention to the Nethuns line of dive watches before. But a couple of weeks ago I purchased their new stainless steel version of the Lava and really like it. Now Nethuns has followed that up with another new release, the ScubaPro 500. Let me say right away, this watch is really nice for the price, I like it a lot. It has the vintage design vibe which I find very eye catching. I purchased the watch this past Saturday and the watch arrived here in the USA on Wednesday. That is pretty good delivery time coming from Hong Kong.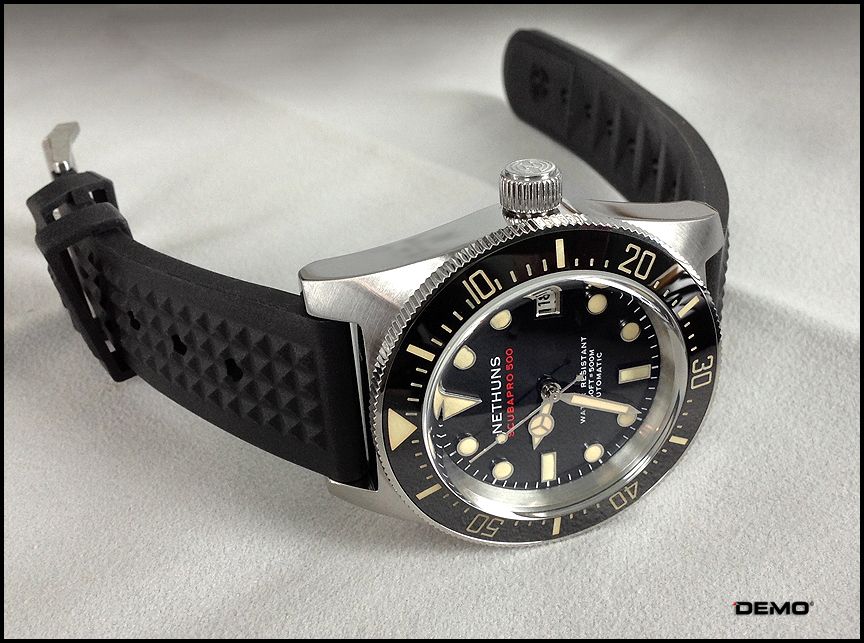 Specs:
- Dimensions: 42mm diameter, 16mm thick, 50mm lug to lug
- Movement: Seiko NH35 automatic
- Lug width: 22mm
- Crystal: raised & domed sapphire with blue interior AR coating
- Dial: Black (with subtle brushed sunburst), applied hourmarkers
- Screw down caseback & crown
- 22mm wide black rubber dive strap with custom machined buckle
- 2 year warranty
Like I said, I really like the vintage vibe with this new ScubaPro 500. Some nice design features IMO are the raised domed crystal, the coin edge bezel, the simplified case without any crown guard protrusions, the framed date window, the vintage colored lume (Nethuns got the color just right), and the vintage inspired rubber dive strap (seiko style).
One thing I just realized before I made this post is the watch name change "ScubaPro". When I order my watch on their website it was called "ScubaPro 500", it even says that on my watch dial. But when I went back to the Nethuns website to reference the dimensions I notice they have changed the name to "Scuba 500". I have a feeling they hit some legal issues with the original name ???
For you guys that might be interested, here's a bunch of pics so you can get a better idea of the watch, (sorry for the low quality cell phone pics).
Cheers,