This is not a review of the watch per se, plenty of great ones if you look around. This more to help everyone that is in the fence regarding owning one of these beauties. The short version is to
GET ONE!
Since I started perusing the internet watch forums (like almost everyone, started on WUS), there were two watches that I instantly fell in love with, but that I was afraid that were to big for my "manly" wrist: The SAS Sea and the Halios Laguna.
Being a bean counter and son of an engineer, I was always inspecting photos, asking everyone their wrist size (kind of awkward at first) and even prepared an excel spreadsheet with specs of all the watches I wanted. I know watch size is mainly a preference, but I do agree that hanging or floating lugs do look bad, and more important, are uncomfortable. It also depends on the size of the watch and if the lugs are flat or curve (which hugs the wrist) and the flatness of your wrist. I, for example, love my Steinhart pilot on leather straps, but due to its design I can't wear it on natos. However, the Ecozilla with Suppa adapter, which has a longer lug to lug distance, wears fine on my wrist on natos or zulus.
Having bored you with all that, here are pictures of the unboxing and of the marvelous SAS Sea-01 LE on my not so marvelous "manly" 6.75" wrist:
This is the reason why we carry knives, Eric:
Great packaging from Zack:
Awesome box and watch from Graeme! The bracelet is great, but this one is to be worn on leather and rubber straps!
Quick comparo between the SAS and the Steinhart Nav B. Both comfortable and similar diameter, but the SAS is thicker and heavier. However, once strapped on your wrist... weight is not an issue. You do need, in my opinion, a thick leather strap... I bought a really nice one from C&B but its only 3.5mm thick and I think a thicker one will make the watch more comfortable. The OEM rubber is great, but an Iso is more comfortable too.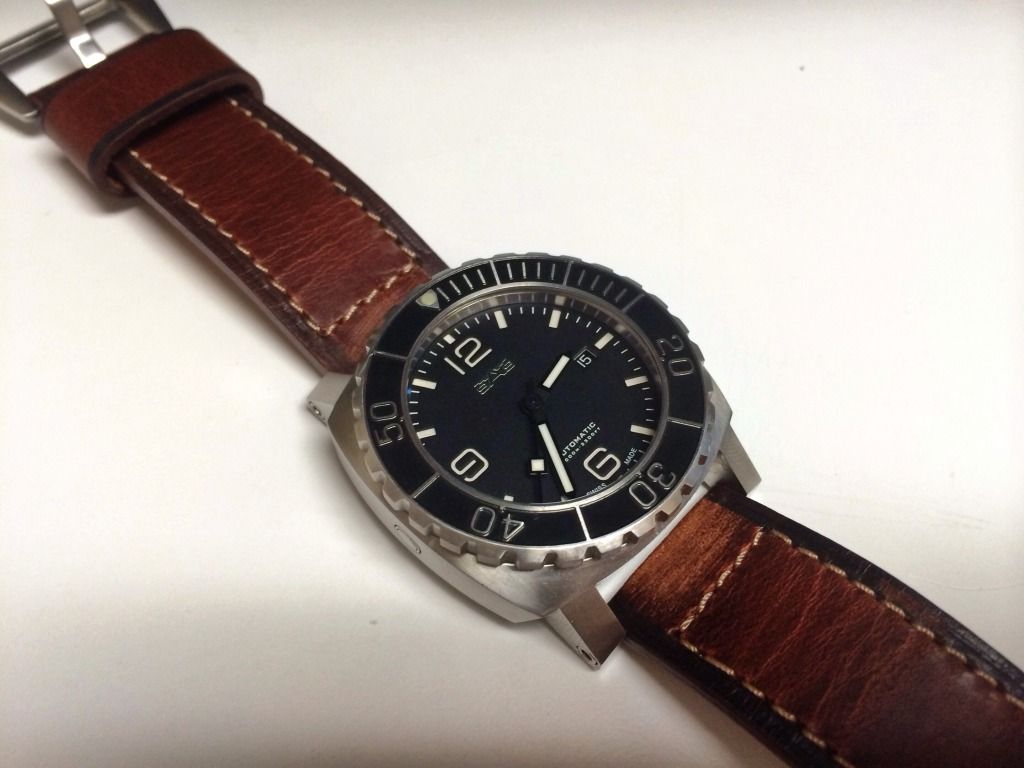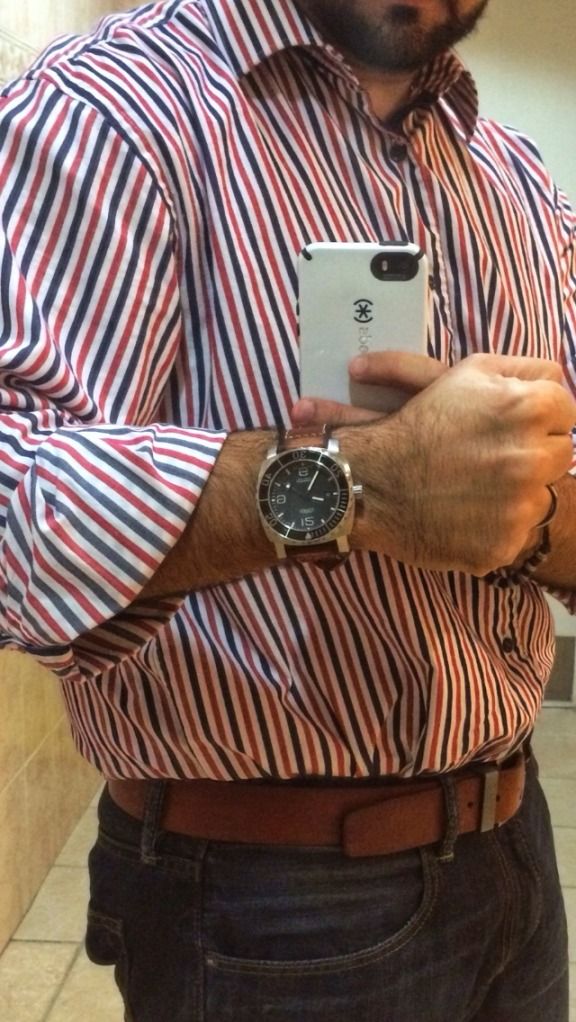 The natos are 22mm as I currently don't have any 24mm's around:
Nice caseback! Anyone knows how many LE's were made? This is #212, reporting for duty

And now... after you establish that your wrist can tolerate the L2L of a watch (just measure yours!), weight is the second most important factor... here you have a couple of pictures for benchmarking purposes:
SAS head and with leather strap:
Ecozilla OEM and with suppa adapters and Iso (its heavier but way more comfortable on Isofrane):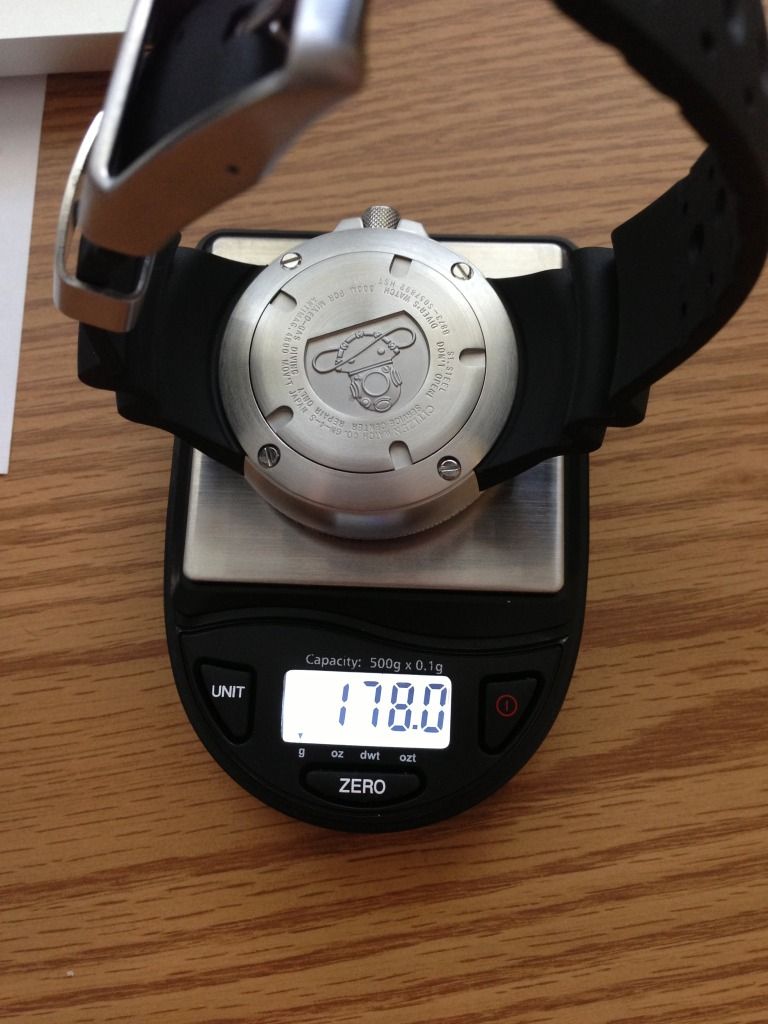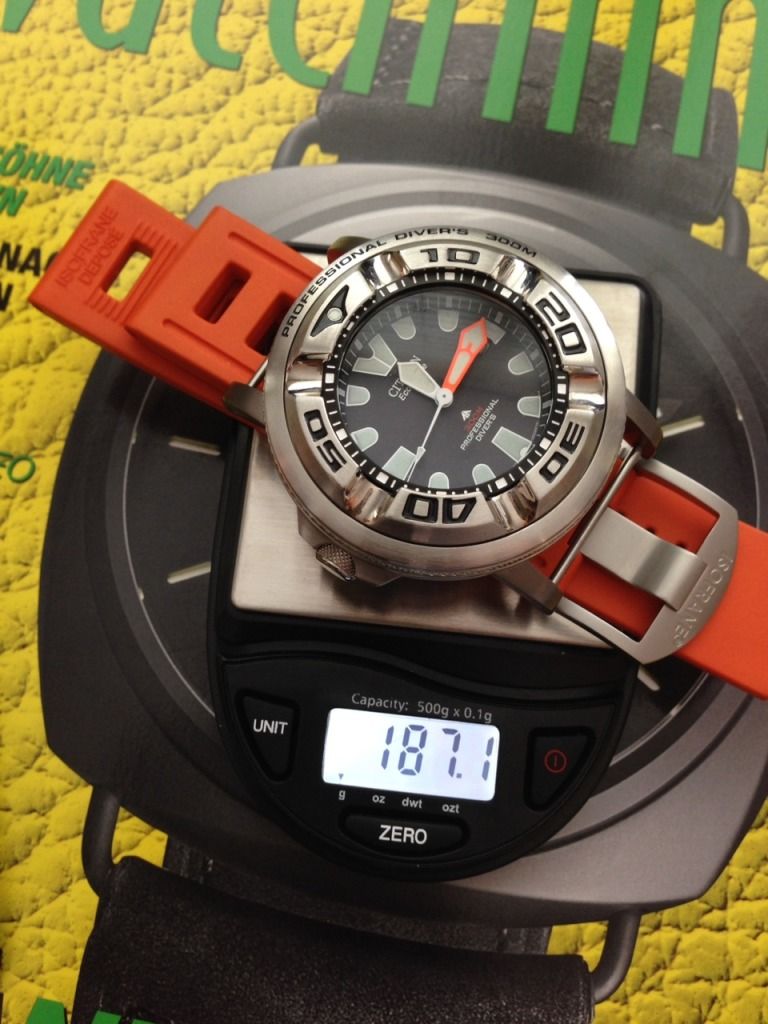 Helson Shark Diver 40mm
Steinhart Nav B:
Seiko SKX007:
My wrist:
All in all, do your homework... don't take the word of someone saying that the watch is too big for you... check it out and maybe you won't have to wait as long as I did to get the courage to buy this one. Also, want to skip all the measuring and stuff?
GO TO A DWC G2G!!!
What REALLY convinced me that I could buy a SAS and a Laguna was being able to try on Eric's Pam and Tony's Laguna... and we also had a great time!
Thanks again guys!

So, anyone on the fence? Need more info or pictures? Just ask!
P.D. I'm looking for a 24mm black Iso, hit me up if you want to sell one. Also interested to buy (or receive donations, LOL) of leather straps for this one.