I think it was primarily due to my decision to retract my proposal to secure the construction of a small (well it's being built on a 12 acre site/property) Medical Center. Which was an invitation I've been waiting such a long time for, and that was to get the dogs and me back into the construction industry! However when a situation doesn't feel right, sometimes you gotta go with your gut and stay were you're at. Especially when you're a small business like me and the dogs, one wrong step/decision, and there's a good chance that we'd be F'd!
So I decided to sell off a few (with a few more to go, as well as keeping a few in my nightly rotation). sold my Vortex (after) I picked up a couple of Frogs!
Ok enough of the violin play'in an back to the Frog's ….
I couldn't be happier with these two Mater Frogs, I only wish I had the coin to buy/collect all the Master Frogs. Aesthetically the Master Frog's are great to look at, build is solid and they sure wear well on the wrist! One design element that was really smart in it's execution is off setting the dial/case to the 9 o'clock side of the watch, which IMO make the Frog wear or sit comfortably on the wrist.
Aside from the trit's, the auto el-light works really great when a person lives his/her life at night! I mentioned this before when I had my rescue, but it would be great if Casio would ad a few seconds to the after glow.
So here they are ... First up is the Men In Dark Purple US Model Solar GF-1000BP-1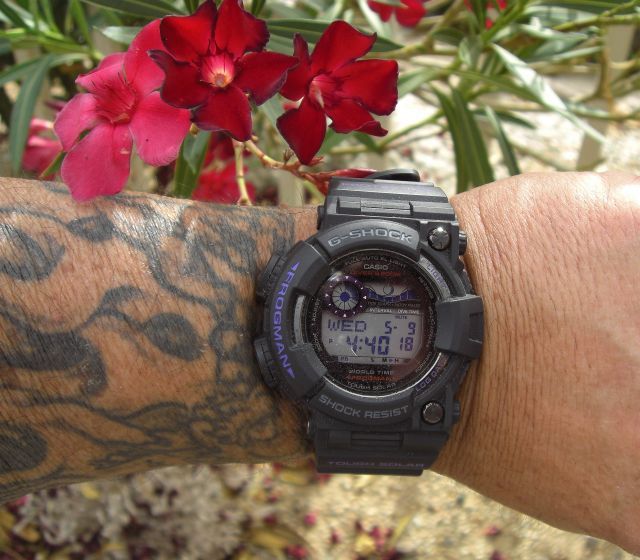 .... And the Japan Edition, GWF-1000-1JF Atomic/Solar ...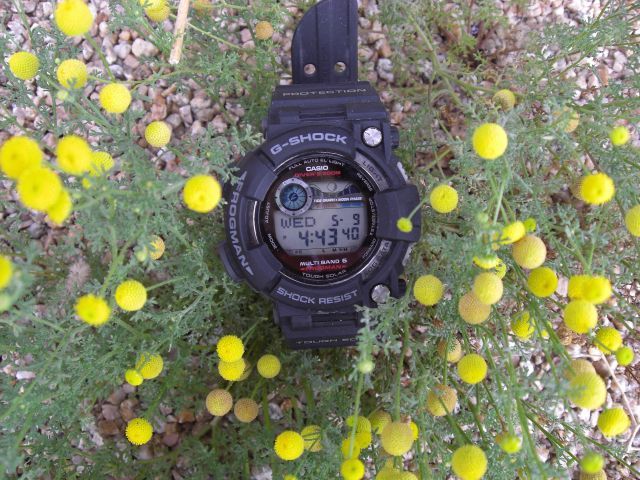 Oh and my boy Calvin with his first Surefire, a Surefire LX2 ..