After several months, I finally got the Great White back from service and on my wrist.
Switched to rubber...
---
President Tranny
Posts: 40203
Joined: Fri Mar 12, 2010 8:25 am
Name: HeadDIK
Location: Colorado Springs
---
---
Very nice
Sent from my iPhone using Tapatalk
Live fast, die young, and leave a good looking corpse.
---
mattcreatestonsofwatchrelateddrama
Posts: 12976
Joined: Wed Dec 02, 2009 3:53 pm
Must feel great to have it back on the wrist.

---
IT Admin
Posts: 9230
Joined: Sat Nov 24, 2012 1:08 am
Name: Andrew
Location: SF Bay Area, CA
Nice. Looks great on the rubber strap.
---
Posts: 5027
Joined: Thu Dec 03, 2009 4:55 pm
Name: Gary
Location: Los Angeles, CA. USA
I agree! I never thought of putting this on the Omega Rubber Strap. I may have to try on mine!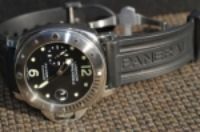 Among Addictions…None is like the "Watchaholic" - Gary
---
Ban Jacobs
Posts: 23671
Joined: Mon Aug 15, 2011 2:01 pm
Name: Vladimir Makarov
Location: Ohio
Perfect combo


Sent from my iPhone using Tapatalk
DEATH FROM ABOVE

BIG WHOOP. IM SPOONING A BARRETT 50 CAL, I COULD KILL A BUILDING.
---
Family photos...
---
Who is online
Users browsing this forum: No registered users and 7 guests