Posts: 2
Joined: Sun Nov 25, 2018 11:57 pm
Name: Ulrich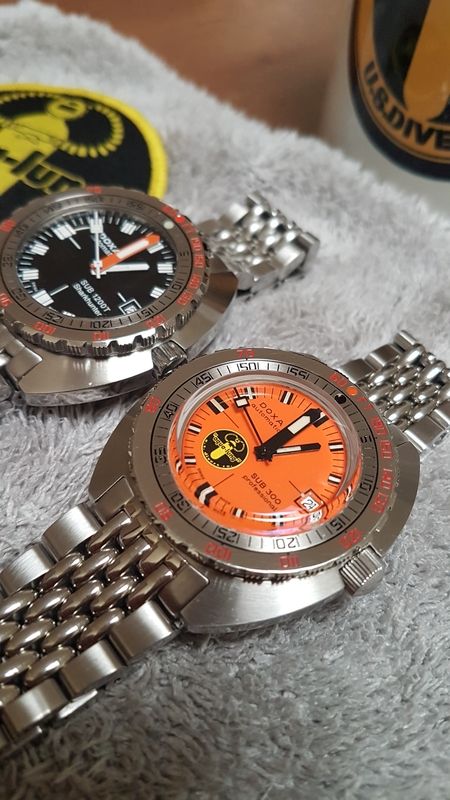 i came late to this factory,but I love them all.i like the 60th style so much ,they are very sexy!!!
---
---
Wants to see pics of your wife
Posts: 11015
Joined: Mon Apr 22, 2013 5:36 am
Name: Joe
Location: Puerto Rico
Welcome, those are nice.

Need to try a Doxa eventually, the reissue looks great.
Omega / Tudor / Rolex / Sinn / Hamilton / Seiko / Citizen / G Shock
---
Honorary Assistant Jr. Hall Monitor in Training
Posts: 10881
Joined: Thu Feb 25, 2010 10:11 pm
Name: Björn
Welcome.

That crystal on the reissue is definitely an attention grabber
:-)

Blah blah smrt phone


If you believe the doctors, nothing is wholesome; if you believe the theologians, nothing is innocent; if you believe the military, nothing is safe.
--Lord Salisbury
---
Posts: 2
Joined: Sun Nov 25, 2018 11:57 pm
Name: Ulrich
Thanks,it was a heavy way for me to get them ,because I'm located in Germany,and there will be no shop or service center near to see one in nature.
Also difficult it was to get the reissue,first nobody I found ,who want to sell.i wrote a guy in uhrforum.de he show some pics of the watch and I ask him when he want to sell it in the future to contact me.it was a coincidence,that he want to make money free,because he want to buy a retro submariner...so we come together and I get this watch and also a new friendship with a nice guy....
---
Current Forecast: Vintage Doxa
Posts: 17395
Joined: Fri Dec 04, 2009 2:41 pm
Name: Mike the Doxa Ho
Location: Lake Michigami
Gorgeous
---
Who is online
Users browsing this forum: No registered users and 3 guests