Visually striking with large white markers and well proportioned white hands against a black dial. Chrono dials and hands are also high visibility.
Highly legible and highly functional - Yes....but there is much more subtle design ques to consider as we work around this magnificent piece.
We will break this watch down into dial, lugs, case, pushers/crown and movement.
Matte black dial has a slight egg-shell appearance. The texture is not seen, at least by me, on the wrist but can been seen "up close"....just one of the subtle details Zenith baked into the Pilot Chrono. In nice contrast to the dial is the highly polished applied Zenith Star and strongly printed text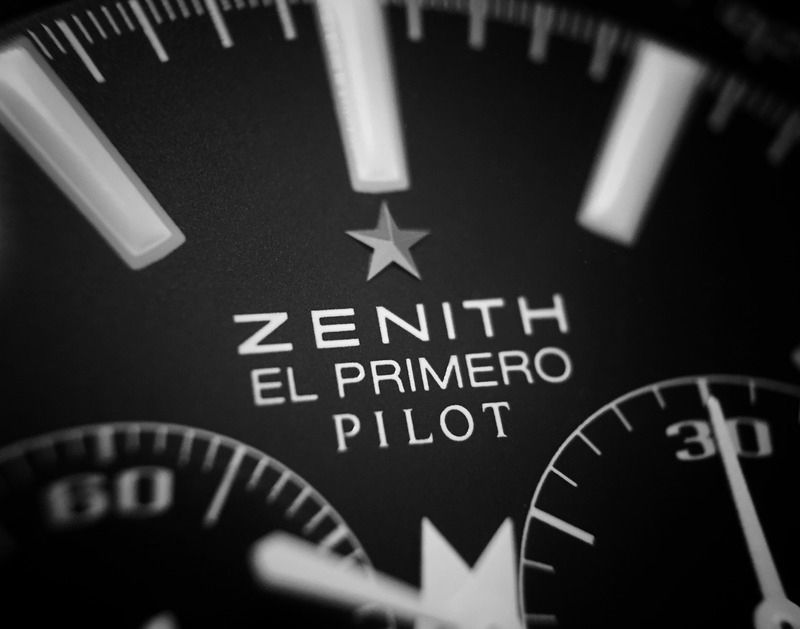 Date aperture is at 6:00. Note how Zenith kept the hash marks going on top of the window. "The circle will be unbroken"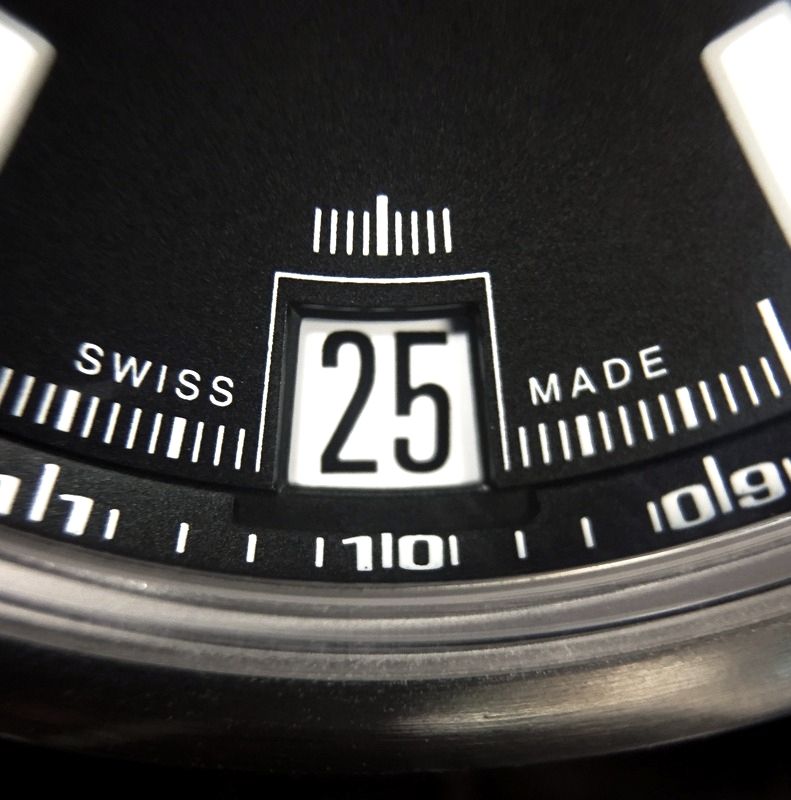 Speaking of hash marks - on the internal bezel, this watch features a Telemeter function. Not seen as much as the Tachymeter scale but still pretty darn cool. Simplified definitions stolen from the web:
Tachymeter: Calculate speed of vehicles or moving objects. It tells you the traveling speed over a fixed distance in km/hour or miles/hour. You can also use it to measure a production process in units/hour.
Telemeter: Calculate distances between the user and an event based of sound through the air when observation is both visible and audible. Start the function when you see and stop it when you hear it....Lightning or Artillery for example.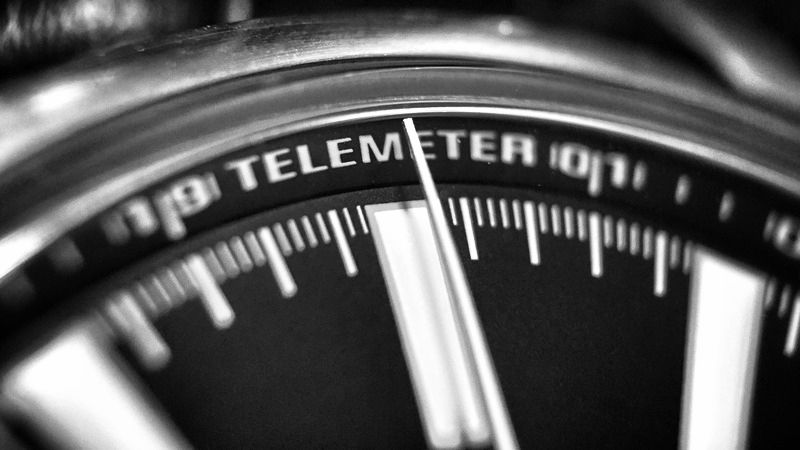 The markers are thick. Thick enough to 1) give depth to the dial and 2) give it superior lume
Also note the chrono dial has the old school longer indicators at 3, 6 and 9 minutes. Another nice detail by Zenith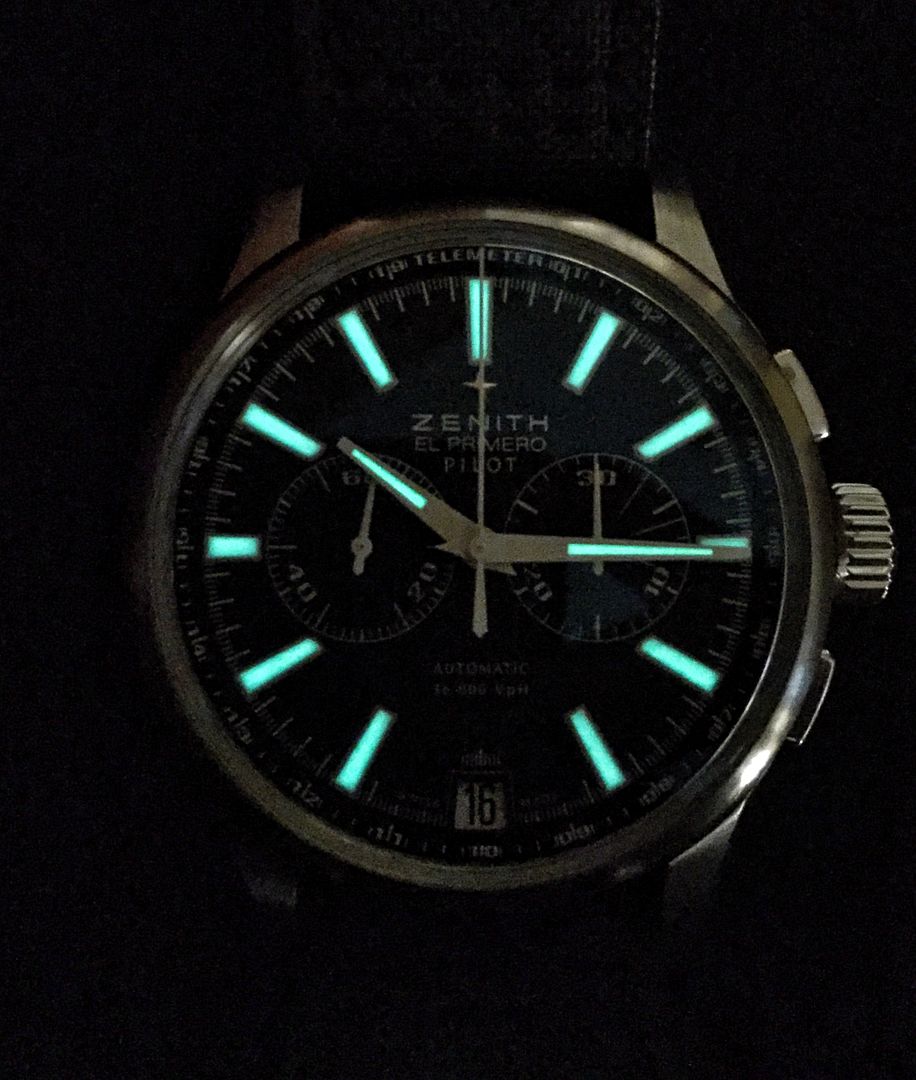 The lugs are brushed with polished bevels that when they reflect light makes my heart smile. Notice the lower right hand lug in the next two pictures and the difference a slight tilt will make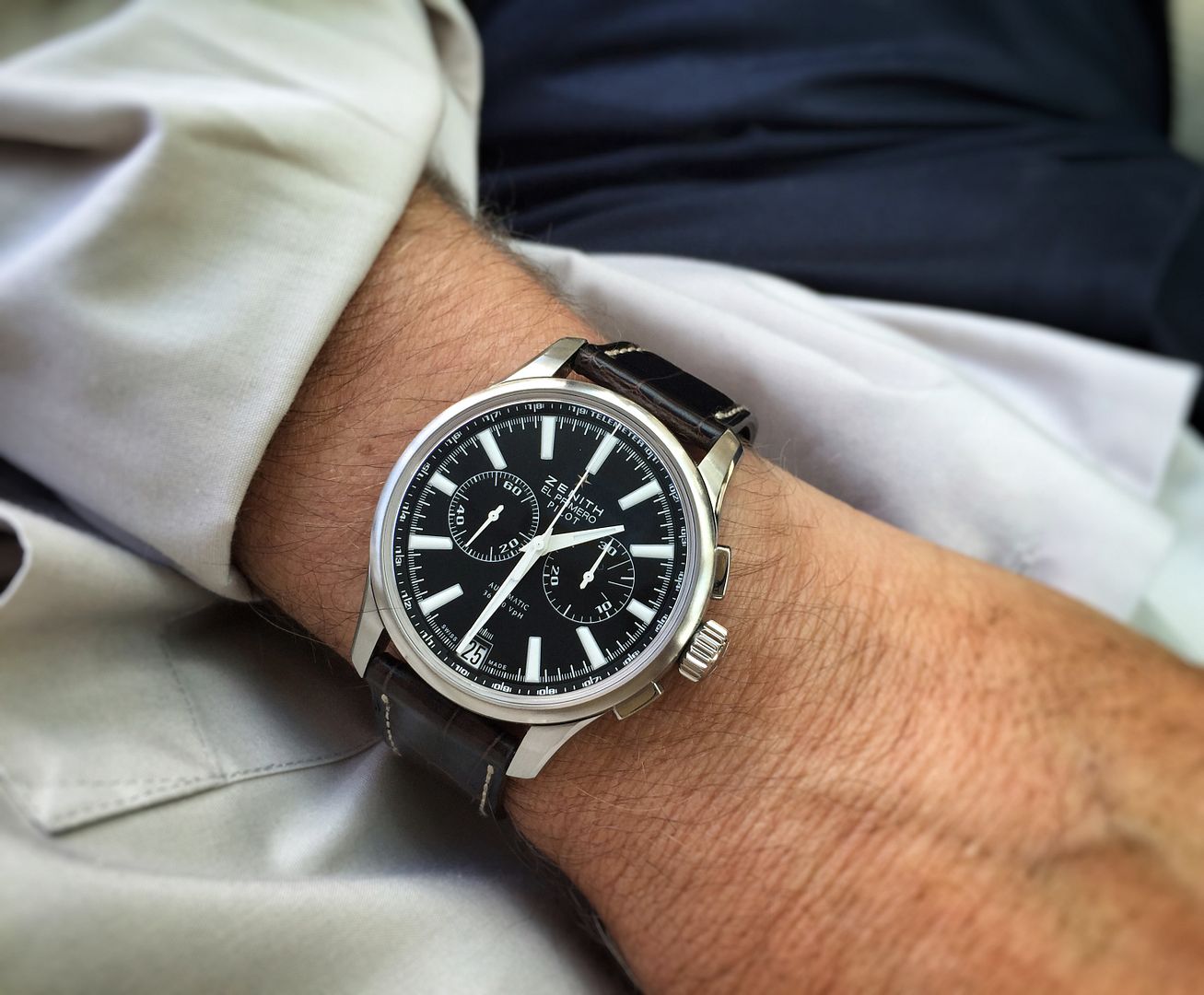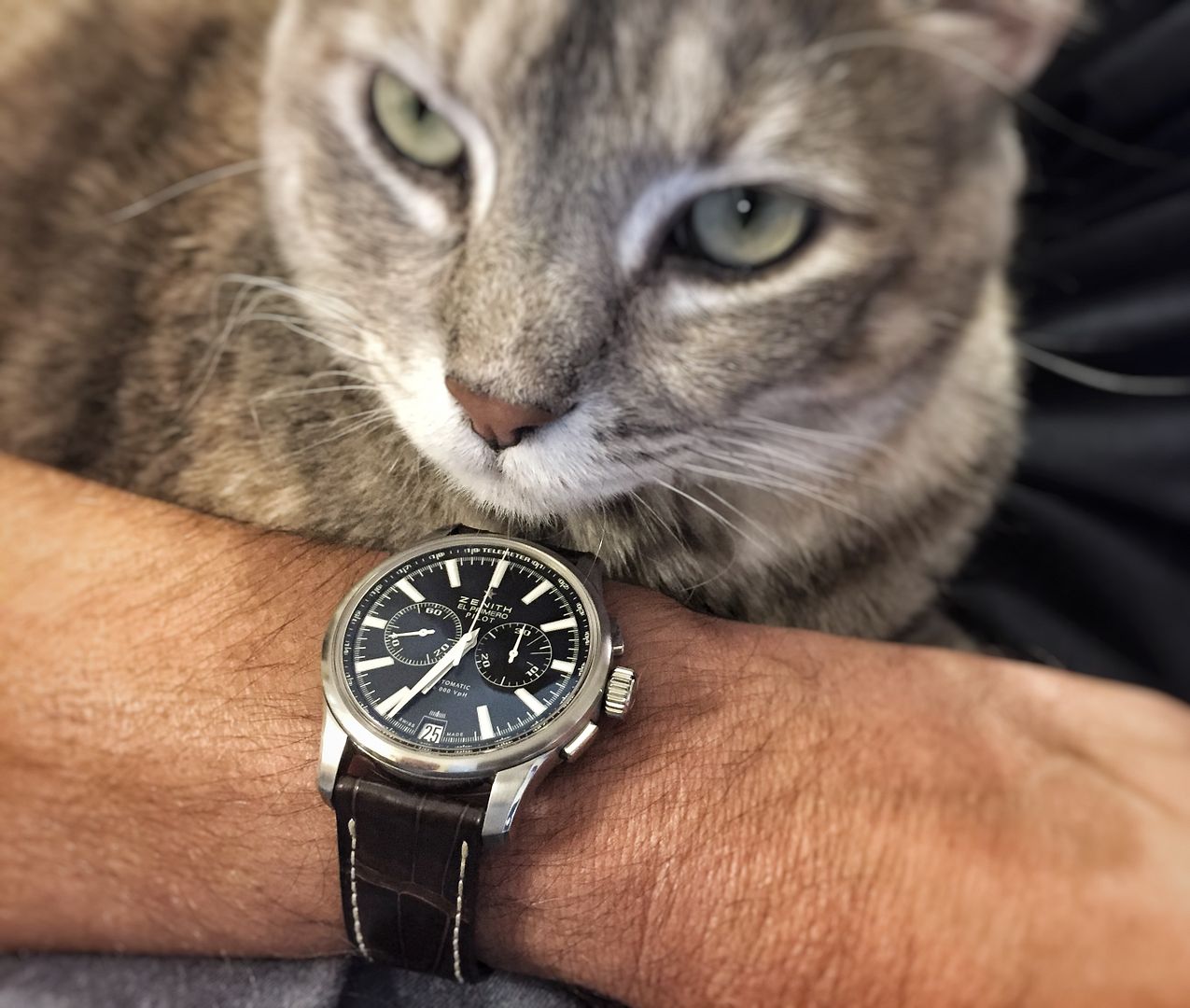 The lugs seemlessly and gracefully flow into the mid-case. Also notice the slightly domed crystal comes out of the bezel.
Turning to the business side of the case...the pushers are rectangles, not seen as often as round pushers but well done by Zenith. Practically, I appreciate the flat pushers allow my big paws better, cleaner and more functional access to the crown
The signed crown is slightly wider/taller than I expected, not overdone by any means, just better proportioned for gloves or someone who doesn't want to have to dig or struggle to operate the crown.
For the sharp-eyed of the readers, in the picture above you may have noticed a little "up turn" in the bottom lines of the case the closer you get to the crown.....a subtle detail of functionality presented is a cut out for ease of winding or push/pull of the crown
Turing over we see the open caseback is secured to the case by 4 screws through 4 arching rounded tabs.
For such a bold watch, there are tons of subtleties throughout
Through the clear caseback you see the 31 jewel El Primero 4002 caliber column wheel chronograph movement with 50+ hours of power reserve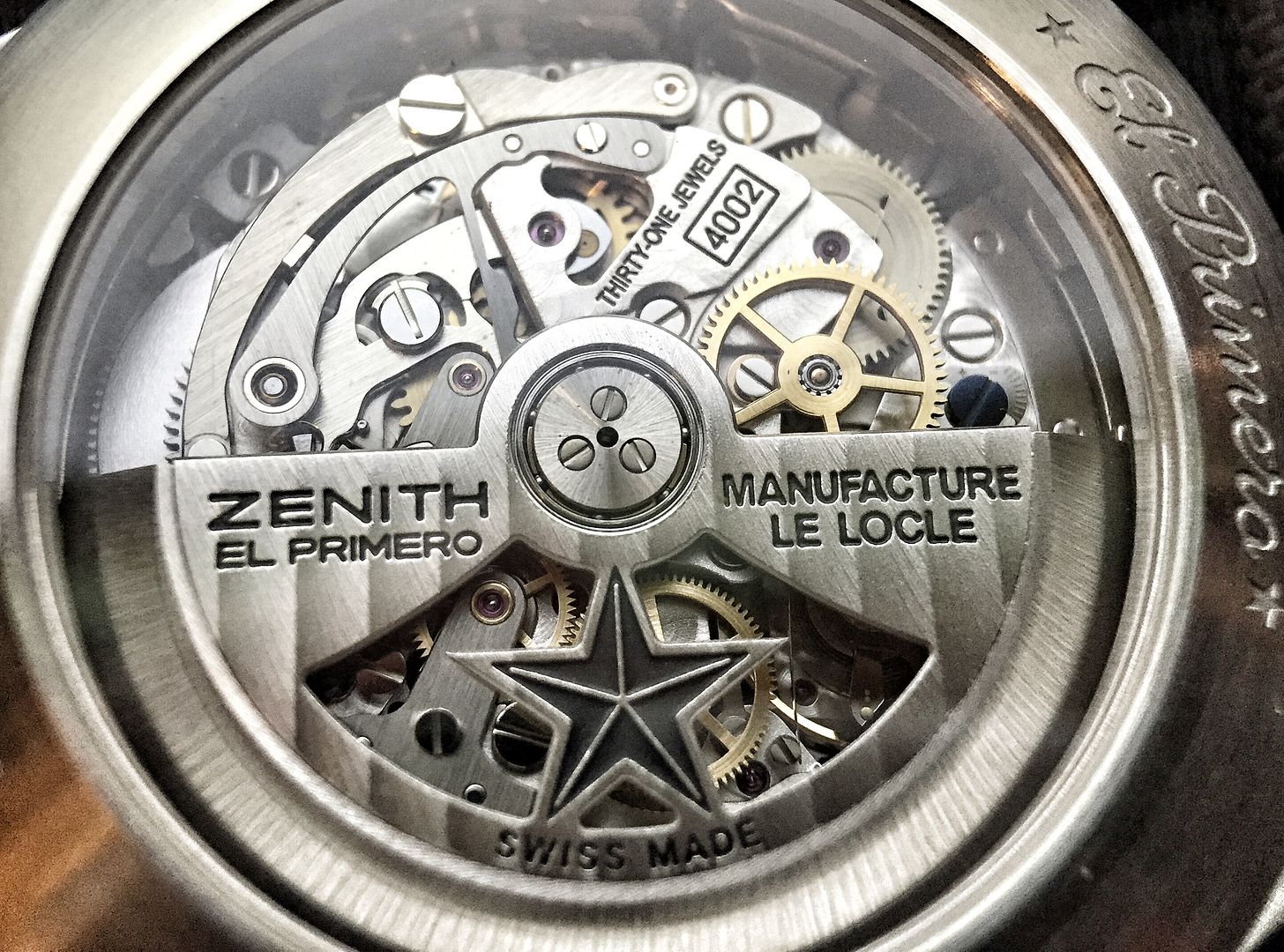 Skeletonized Rotor predominately features the Zentih Star
Fun Facts on the movement from the Zenith Operating Manual: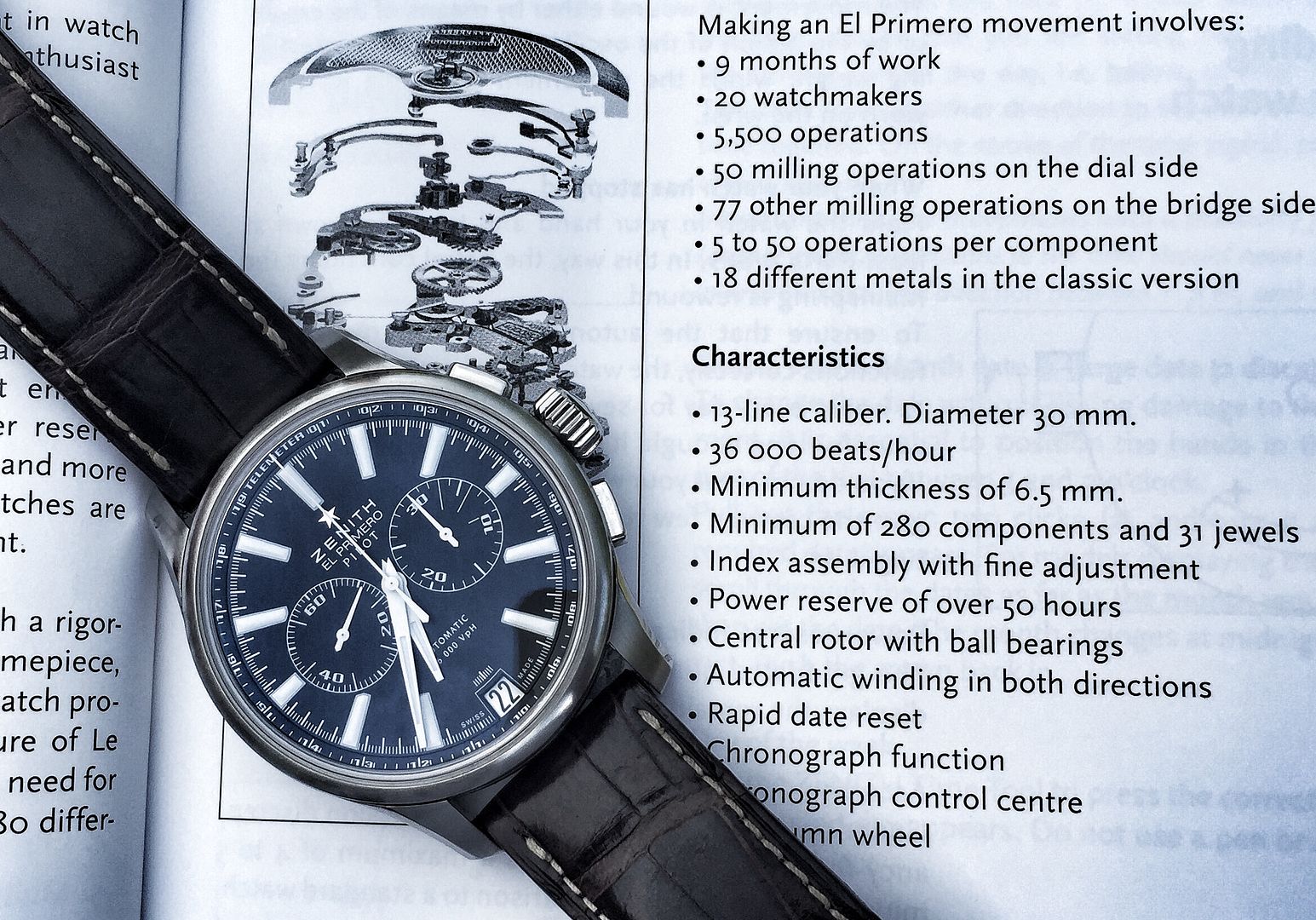 Conclusion:
Powerful combination of stark boldness with flowing curves and subtle details on top, middle and underside of the watch
10/10