The contenders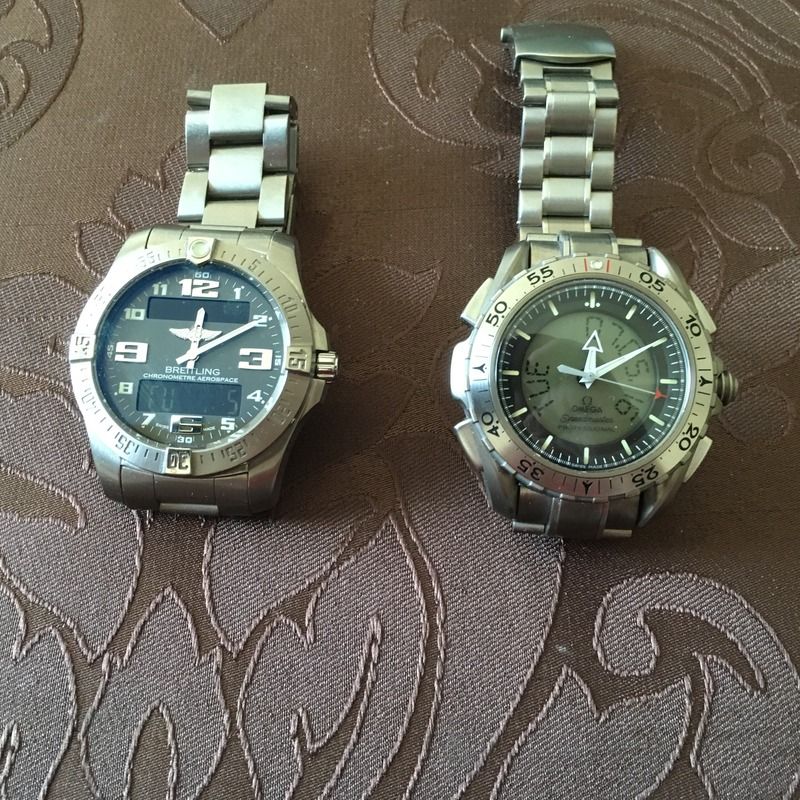 I'm lucky enough to have both of these right now. I bought the Breitling new about two years ago, and it's been a semi-regular daily wear since then. The Gen 2 X-33 I've had for about a week now (Thanks again, Winster!) I thought I'd see how they stack up against each other.
First, the Breitling Evo.
43mm by 10.8mm thick, 100M WR, flat sapphire crystal, Breitling Super Quartz Thermo-compensated movement. Titanium case, case back, and bracelet. Unidirectional rotating bezel with a lume dot at 12:00.
Accuracy for me has run about +4 seconds over the past two years. Total.
Omega X-33 Gen 2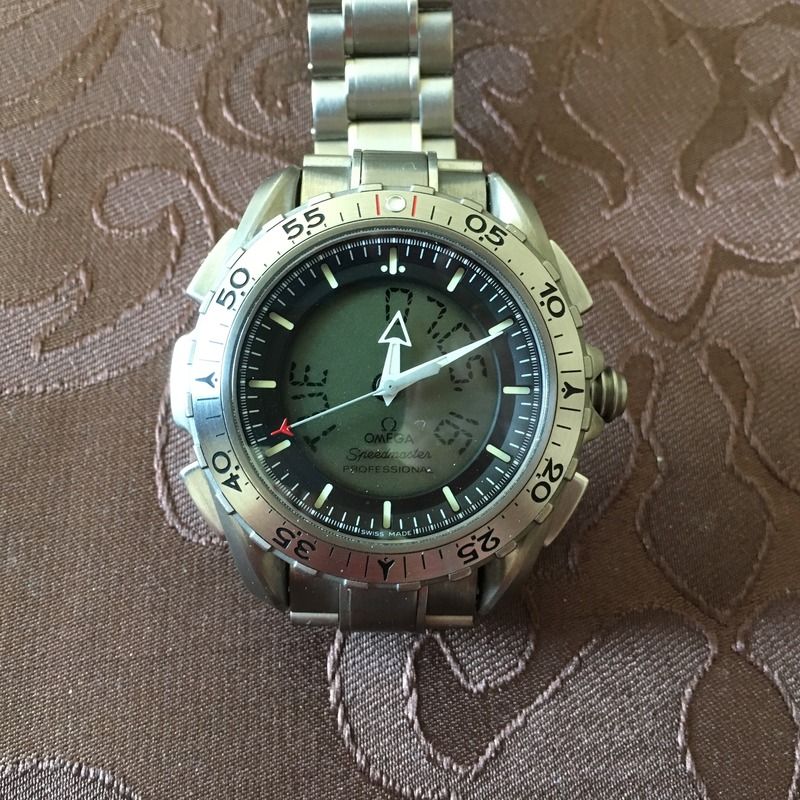 About 43mm by about 14mm thick, 30M WR, lightly domed sapphire crystal, Omega 1666 movement with 9 jewels. Titanium case, case back, and bracelet. Bi-directional rotating bezel with a lume dot at 12:00.
I can't speak to accuracy yet, but it hasn't drifted at all in the past week, so it's not bad.
The Aerospace case back is secured by screws, and has a variety of conversion factors in a handy layout on the back as well as a Breitling logo. The crown performs various functions by either twirling it (change functions, light up the backlight), pull it out, then spin it (change settings such as time or time zone), and push it in (start/stop chrono, minute repeater)
The X-33 case back is a bit more involved. It has "FLIGHT CERTIFIED BY NASA FOR SPACE MISSIONS" engraved on it, plus it has a double layer effect to provide a resonance chamber for the alarm. This case back design, with a thin inner case back, is the main reason the X-33 has only a 30M WR. The issue isn't leakage, but rather pressure deformation of the inner case back potentially shorting out the battery or circuit board. There's no concern with water leaking in with normal use or cleaning. The crown serves fewer functions than the Aerospace's, because the X-33 has four pushers around the case to operate various functions.
The Evo has a titanium bracelet with links held together with screws, and a conventional flip lock clasp. It's comfortable and the clasp has micro-adjust holes to get the fit just right.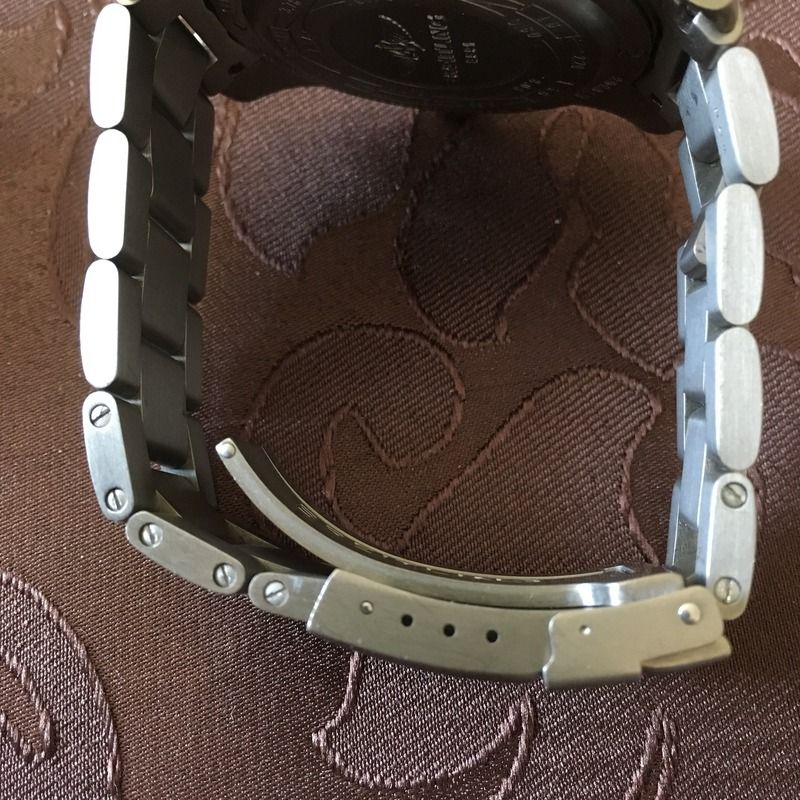 The X-33 has omega's "Speedy" type bracelet with links held together with the cursed pin and collar system (solid and secure, but a PITA for the DIY guy), and Omega's dual button clasp. There is one micro-adjust in the clasp which is why, I guess, there's no half link provided.
Lume for both watches is very good, bright and long lasting.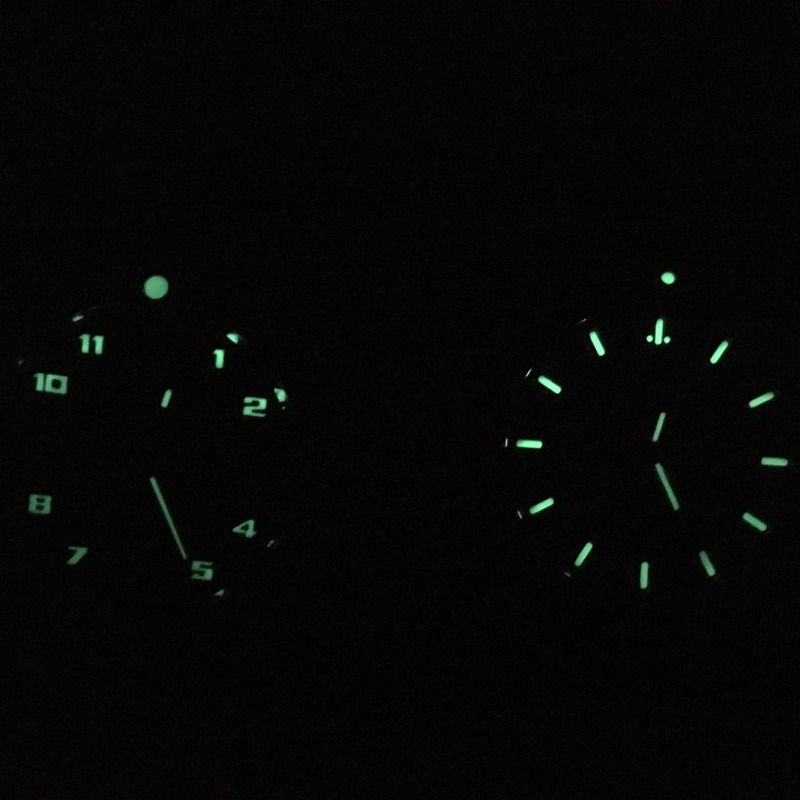 I didn't get any usable backlight pictures, but both watches do backlight the the digital displays. The Evo lights up the characters with a blue-green backlight that's activated by a "slow" turn of the crown. The X-33 backlights the entire inner portion of the dial with a bright greenish glow when you press the pusher at 10.
Impressions
Breitling Aerospace Evo: Dressier then the Omega. It's a bit shinier, and a good deal thinner. This one works well under a long sleeve shirt. I still fumble the slow vs fast crown twirls at times, so it can be a bit fussy when changing time zones (slow for minutes, fast for hours). One kinda undocumented feature on changing the time, though, is that it will remember the correct minutes if you fumble and change minutes instead of hours when changing time zones. If you're used to the typical Casio G-Shock drift (about 15 seconds a month) the timekeeping will amaze you. To me, there are two negatives that keep this from being about perfect. First is the semi-fiddly crown for changing functions and settings. It sometimes takes a couple tries to get it right. Second for me, is the lack of a running seconds hand. I can set the display to show running digital seconds and date, but I guess I'm a kinda analog ticking seconds hand kinda guy.
Omega X-33 2nd Gen: More toolish, the different grade of titanium used, and all brushed finish, give this one a more utilitarian and subdued look then the Evo. It's thicker than the Evo as well so, if I ever get into long sleeve weather again, it might be a thing. also, this watch has a constantly running central seconds hand. I like that. On this one, you cycle through the functions by pushing the crown to scroll through them, which is a bit more fool proof for me. There are a couple thing this watch does that are absolutely brilliant. First up, while both watches have a settable countdown timer, the one on the X-33 will start counting up after it hits 0. I'm not an astronaut, mostly I use the countdown timer when I'm cooking. So, when it gets to 0, if something isn't quite done and I figure it needs another 2 or 3 minutes, I have this to keep track of how long over it runs. And it's not a bad party trick for meetings that run late. The second nifty thing it does is when I change timezones. With the digital display set to show the time, you press and hold the crown in for 3 seconds. The left side of the display will show "HOURS", and you can reset the hours only, forward or back. Easy resetting for DST or a time zone change.
The biggest disadvantage for the X-33 is that it's semi-vintage now. Omega may be continuing to support these, but there's always that little bit of doubt about daily wear of a collectible watch. This one is an easy 95% +, and has a recent battery change, but I still wonder a bit whether to wear it or preserve it.
Summary: I won't call a winner or loser here. The Breitling is thinner, dressier, and almost surreally accurate. With 100M WR, I don't worry about it in water as deep as I'm likely to go. Plus, my wife has stress-tested hers in pools and water parks with no issues, and this is a woman who killed an SKX007. So, plenty tough to go along with the good looks (the watch and the wife).
The X-33 is NASA-cool, easier to use in a lot of ways, and just as comfy to wear. Thicker and not dressy at all. This one has a few features that, I think, raise it above the Evo in the functions category. Accuracy is an unknown for now.
if I were forced to choose one or the other with a gun to my head, I think the X-33 would win out by a whisker for the running seconds hand and relative ease of use. I wish they were still making this one as it is for the factory support and warranty.
Thanks for reading.