Helson Shark Diver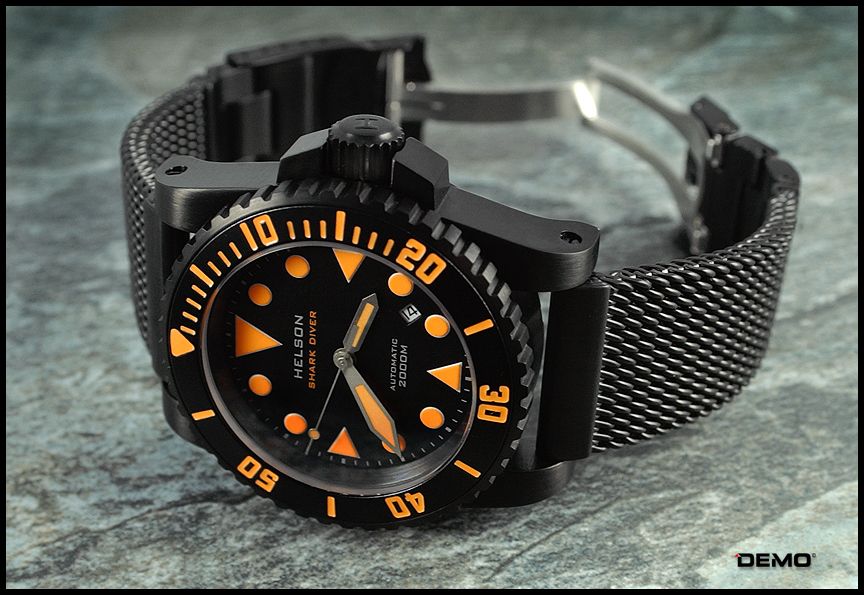 The Helson Shark Diver arrived a few weeks ago. I ordered the PVD version with black dial and orange lume. Talk about high visibility, the orange lume really pops against the all black watch. There is a high "coolness" factor on this one and a good bang for the buck. This case and bezel are different from the case and bezel currently used by Deep Blue and Wilson Watch. This is a BIG watch. I would equate the size to the Zinex Trimix. For you guys that like them big, this watch is hefty. Actual dimensions are: 45mm diameter (without crown), 18mm thick, 54mm lug to lug length, 24mm lug width, 33mm dial diameter. These are Asian manufactured watches out of Hong Kong.
Overall fit and finish is nice and the machining is well done. The bezel action is firm and positive in it's click action with no back play, again I would compare it to the bezel feel of the Trimix. The bezel does have 90 clicks which is a little puzzling. The case back contour reminds me of the work done by Fricker. There is also a very cool shark and diver graphic etched in the case back. The mesh bracelet is of high quality, it is the same bracelet that originated on the Zinex Trimix and Heliox.
The lume on this watch is outstanding. You lume guys will love this one. The lume is evenly applied and thick, making for very bright and long lasting lume. Helson did a nice touch with the hands on this watch. They have a very fine blasted finish which gives them a very nice frosted look that works well with the black dial and orange lume.
The packaging on this watch is not memorable. Maybe it is because I have been influenced by the packaging and accessories that you get from watch companies like Benarus, Deep Blue and Halios in this same price range. The Helson package is a generic two sided zippered travel case with a snap pouch. There are spaces for two extra bands and a screwdriver, but they are not included.
Dealing With Peter Helson was a pleasure. He answered emails promptly and FedEx shipping was 2 days from Hong Kong. Overall, this is a great watch for the price. A robust, quality case design with a highly legible dial. IMO, the Helson Shark Diver is a great new contendor in todays dive watch market.