And by kitchen sink, I mean alarm function. Why? Because really, it's the only other thing you could dream of putting into this watch. Everything else imaginable (short of a minute repeater) - this watch has it. And so no matter which side of the "it has Navy SEALs branding" fence you're sitting on, it's somewhat fitting it should be in a watch that's been "tested" by one of our most elite and versatile military units.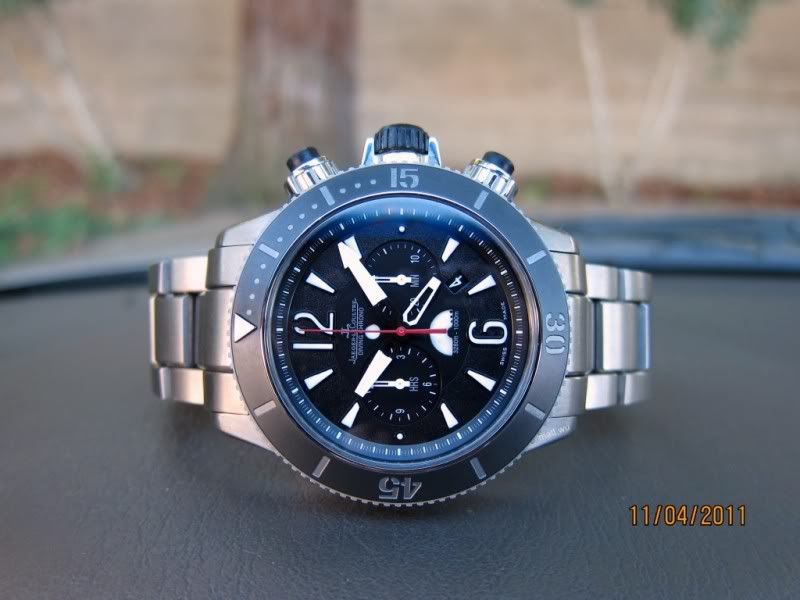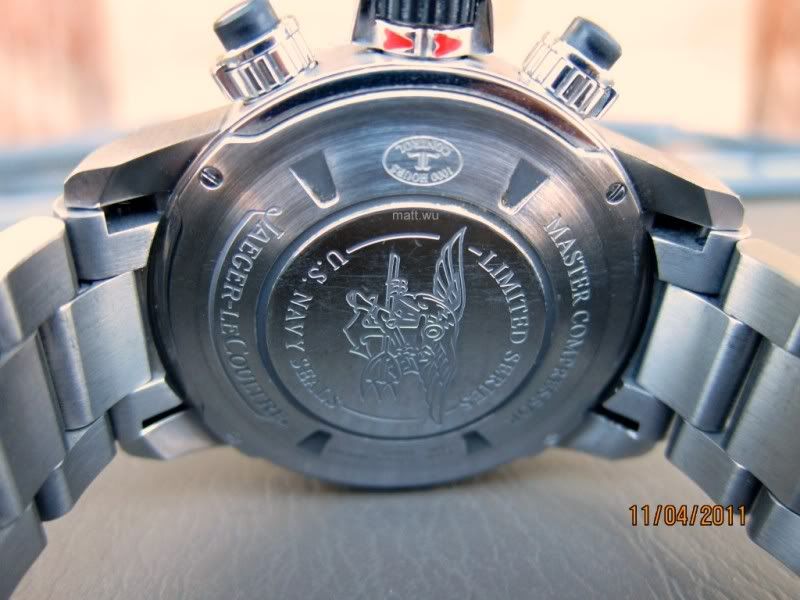 And that's as far as I'm going to go in talking about the Navy SEALS. (Marketed) Military use notwithstanding, this is a watch where if you need it, boom - check your wrist. What would usually be a simple timekeeper has been, in this package, arguably transformed into an actual tool.
Great lume for use in the dark? Check.
Gotta time something? Check.
Mark start time? Check.
Another time zones? Check (with AM/PM indicator).
Today's date? Check.
Water resistance? 1000 checks.
Micro-adjustments for fit? Check.
Watch still working? Check and check.
And still wearable?? Check!
Really, this is probably the pinnacle of over-engineered, modern wrist-watches. We know JLC is capable of bringing innovation and quality in their movements, but this watch showcases their ability to demonstrate that same level of excellence in the other components of the watch. Lots of thought has obviously been put into making this watch ridiculously robust without sacrificing practical usability.
How so? Let me count the ways.
The watch packs a ton of functionality into a not-so-compact package. At 46.3mm wide, this is quite a large watch. Combined with the thickness (of around 16.5mm, I believe), you've got a watch with 1000M water resistance. However, to offset the size, the watch was made in Grade 5 Ti (don't ask me what the significance of Grade 5 Ti is, I wouldn't be able to tell you) which, paired with the fact that the lugs are angled downward to "hug the wrist", make this watch wearable on the most pre-pubescent of wrists. The case/bracelet finishing is a very nice combination of brushed and polished surfaces, rather than the typical bead-blasted look you'd find with Ti watches. I was impressed with the finishing on this watch, as other JLC offerings have typically left me cold when it came to case finishing. The polished beveling on the lugs is excellently done, as are the polished facets on the bracelet pieces. A lot of fine attention to detail without giving the watch a "too fancy to beat on" complexion.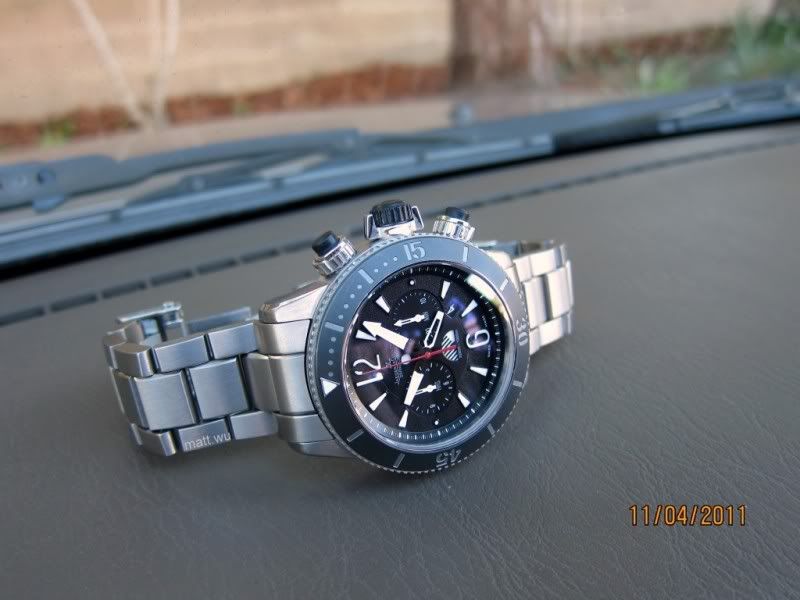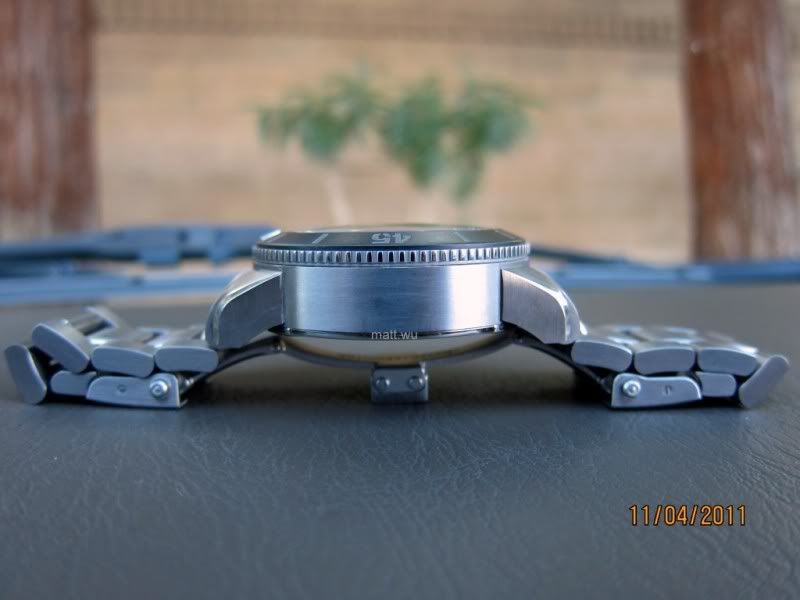 Chrono and crown operation is identical to other chronographs in the Master Compressor lineup. Though they do add quite a bit of bulk to the watch, they're SUCH a breeze to use compared to the normal screwdown pushers or crown you'd find on a deep-diving chronograph. In conjunction with the diameter of the watch, the pushers are perfectly proportioned. And the rubber coating? A perfect fit on this watch. I had the JLC Master Compressor Chronograph 2, and the uncoated pushers were rather uncomfortable on the wrist and, quite frankly, too large for that particular case.
The bracelet construction is something worth mentioning as well. Non-tapering, I'd normally find it too much for my wrist. But again, at 23mm, it's properly proportioned for the watch, and thus I don't find it overwhelming. The adjustment system is a pain in the rear to resize, but the system is designed so that even if a screw were to fail in the bracelet - hell, even if ALL the screws were to fail in the bracelet, it's still stay on your wrist. It's a hard system to describe for a mechanical dunce like myself, but resizing does involve having to have links folded until touching in order to access the screw. Trust me - it's pretty unique and well-thought out. The double deployant is comfortable, super secure, and comes with the excellent JLC quick-adjustments that function similarly to Rolex's EZ-link.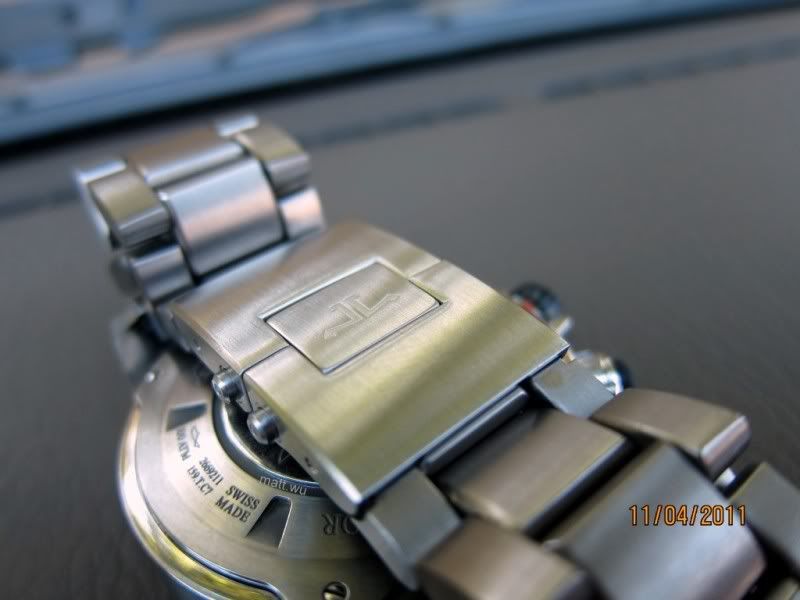 The dial is fantastic. It's very well lain out so as to not sacrifice legibility despite all the complications. This dial utilizes different textures for different regions of the watch: raised and textured around the outer edge where timekeeping is read, lowered and smooth at the subdials for elapsed time, white/striped for the function indicator, red for chrono seconds and AM/PM, less important information (like the logo/branding, depth rating, labels on the chrono subdials) in grey. Truly well thought out from a usability perspective. And the lume? This watch is just as legible at night. The bezel has a ceramic insert (though thankfully without the bling) and ratchets very securely. The first few times, I thought it was a bit tinny, but I since have changed my opinion, appreciating the ease at which the bezel rotates while maintaining integrity. Solid 60-clicks, easy to grip bezel teeth, legible without being in your face.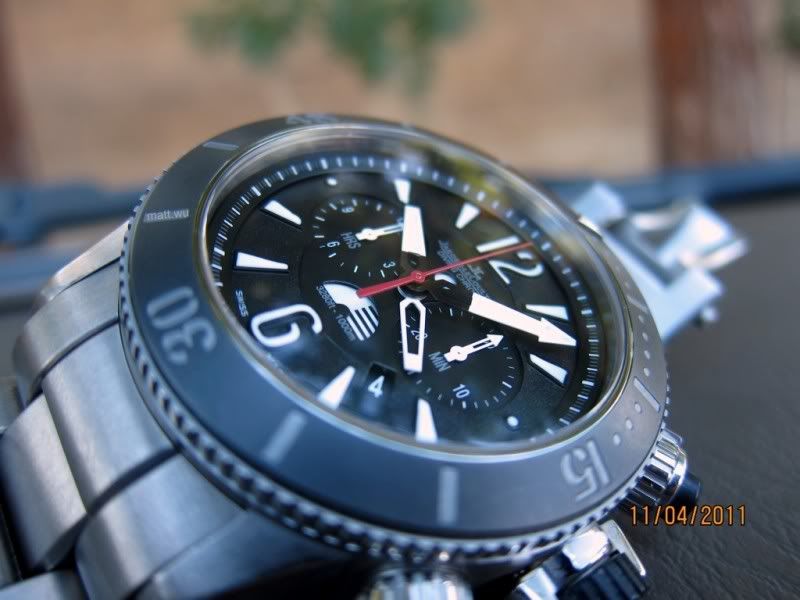 I snagged a couple (much better) pics off the net to showcase the dial, lume, and bezel.
I almost don't need to talk about the movement, being that this is JLC, but the caliber 757 is stellar. Winding is smooth, chrono operation is such a dream to operate (especially if you're used to the Valjoux 7750). Very crisp snap, not requiring too much pressure, both on the start/stop as well as the reset. As has been my experience with other JLC watches, no matter what you may think about the exterior finishing/quality/design, the movements are always the bread and butter and right on the money.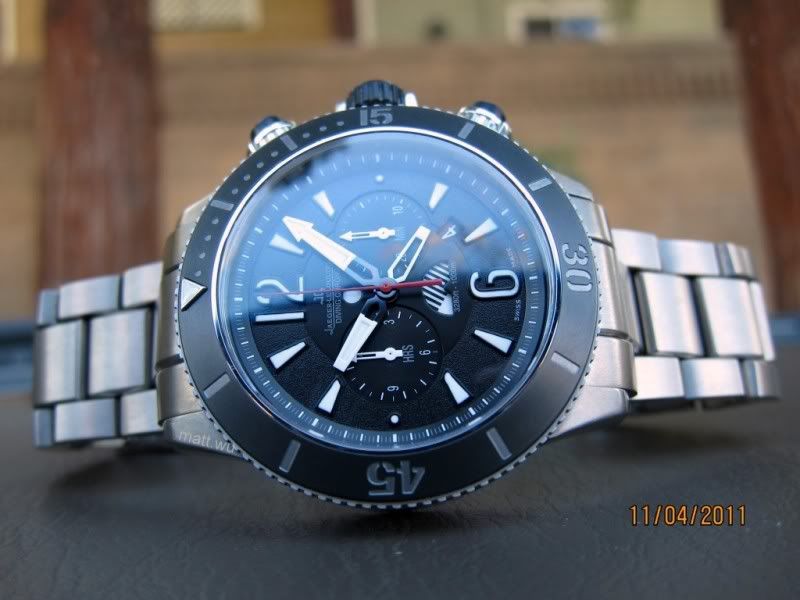 Some of the cons of this watch?
Well, I guess the first is the size. While you may argue that legibility would be sacrificed with a smaller diameter, I really think they could have sized it down to a 44mm watch easily without any significant loss of legibility or depth rating. Sure, it definitely is wearable at this size, but I think it'd be even more versatile if it were a tad smaller in all dimensions. Certainly personal preference here, though.
Secondly, the endlinks actually have quite a bit of play in them where they connect to the case. This is especially noticeable on smaller wrists where the bracelet hangs down more vertically, showcasing a visible gap between the case and the endlink otherwise not visible if the bracelet is held horizontal to the case. Not noticeable during normal wear, but hey, I'm actively looking for things to criticize on this watch.

Third, I don't like the way the GMT is designed. Ideally, I think the most practical use of a GMT watch is if the solid hour hand is independently adjustable in hour steps without stopping the watch. The date should also follow the solid hour hand. This way, as you cross timezones, you adjust the solid hour hand to your current location and the skeletonized hand represents home time. Date should be adjustable forward and backward. This is the case (sans GMT hand) on most Omega's these days (8500 movement and their quartz movements in the Seamasters like the Aqua Terra and the SMP 300). Instead, on the JLC caliber 757, the skeletonized hand is the one that is independently adjustable in hour increments. Eh - I don't travel much, but I just don't necessarily understand the justification for the current design. Maybe I'm just misunderstanding how to properly use a GMT function.
Fourth, and most inconsequential, is the fact that somehow, though not apparent when I run my fingers over it, the lume triangle on the bezel is very sharp. Any time I wear something with long sleeves, I ALWAYS end up picking lint out of the lume triangle. Doesn't feel sharp to the touch but is a lint magnet - it's the strangest thing.
All in all, though, I've been thrilled with my experience with this watch. I admired from afar (after trying hard to source one at a local AD - who refused without a $1000 deposit), thinking I'd just write this one off as too large. I'm glad I didn't. While it IS large, and (in my opinion) would benefit from a slight size reduction, I find it a very captivating and interesting watch that is one of those only described as "fun" to wear. After convincing myself that I was only drawn to classic, reasonably sized watches, it has been a ton of fun to wear this watch around - and I have been wearing it OFTEN since it's arrived. Despite the fact that I got a bunch of other watches at the same time, I've probably had this watch on my wrist for at least 12-16 hours per day, every day, since it's arrived. This watch really has actually changed my opinion, for the better, of JLC watches.