Guinand Series 40 DLC

Crystal and Case:

The case is nicely executed in bead blasted DLC steel. The DLC color is a dark grey, darker than grade 2 Ti. The closest thing in color would be Breitling "black steel". The main difference is that the Breitling's are typically brushed, whereas this is bead blasted, which leads to a slightly darker color. At first, there was some non-uniformity in the color, but it was just residue that washed off with water and Q-tip cleaning. The shape is similar to a Sinn 103 without the crown guards. The lugs are slightly longer than on my EZM1, but not too much so. The display back is also well done with a flat sapphire back and light gold writing around edge.
The crown and pushers appear to be a darker shade than the case, likely due to them being a brushed finish (then DLC'd) rather than bead blasted like the case. Signed screw down crown reminiscent of the one on the EZM1. Pushers as well are similar to the EZM1, with a protective shroud around the pusher. However, they are thankfully not screw down pushers, which I find annoying.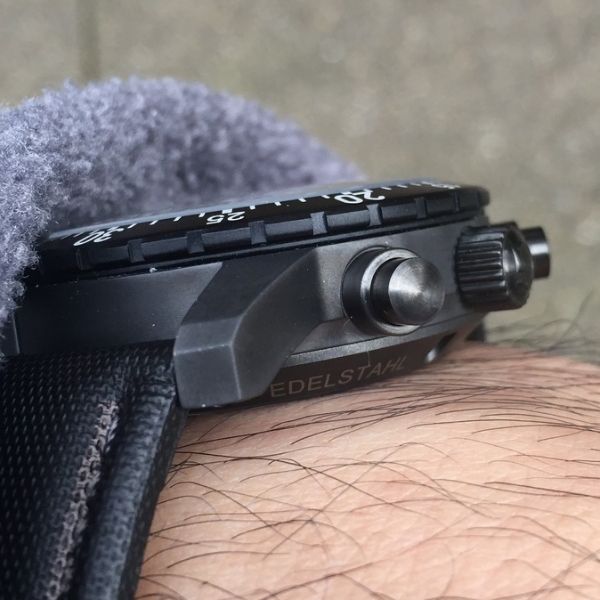 The slightly sloped bezel is free turning (no detents) and bi-directional. It has enough friction that it will not be easily moved by accident, but not so much that it is hard to turn. The color is darker than the case leading to a sort of Sinn SDR look. The bezel edge has relatively shallow rectangular grooves, but they are very sharply cut, so grip is not a problem.
The sapphire crystal is slightly domed with AR on the inside only. The crystal edge is a fraction of a mm raised above the edge of the bezel.
With a lug to lug of 49mm, it wears well on my 6.75" wrist. The 15mm thickness is a bit misleading, since it has a sloped bezel and domed crystal. It doesn't feel overly thick or bulky.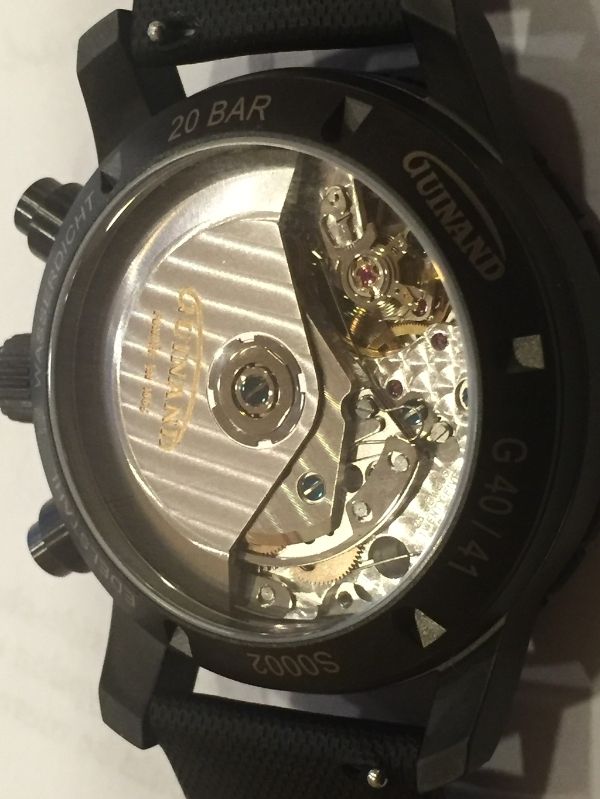 Movement:

The movement is a standard Valjoux 7750. The rotor is engraved with Geneva stripes, and part of the movement plates are also decorated with Geneva stripes and some engine turned circles. Pretty nicely done for a watch at this price point. The chrono seconds is a hair to the left of 12 o'clock, but otherwise all chrono functions are as expected for a V7750. Haven't timed the movement, but it seems to be keeping reasonable time. Testing results from the factory show it a few seconds fast in all positions. I believe you can ask for a chronometer grade movement if desired.
Dial and Hands:

The dial is a matte black with three standard V7750 sub-dials and day/date. The sub-dials are recessed and finely snailed (concentric circles). The continuous seconds hand is in a deep red, and the minutes and hours totalizer hands are in white. I might have preferred all the chrono hands to be in red like the Sinn 303, but this is fine also. The only writing on the dial is a stylized "Guinand" over the day/date windows emulating the shape of an airplane wing. Tudor could learn something here. The day (German) and date wheels are both white text on black background, which is my preference.
The minutes and hours hands are lumed along with the numerals with green glowing luminova. The numerals are done in a simple sans-serif font. There are a couple of font options, with one using a slightly more stylized serif'd font that I was not fond of. I would have preferred the hour hash marks be lumed also, but I find that I'm not that dependent on my watch's lume most of the time. Might consider using Terry's lume guy to alter the dial if this ends up bothering me.
The rehaut is also DLC'd but is without writing or markings.
Band:

Guinand offers a variety of leather bands and a couple of rubber options. I chose the faux croco rubber as recommended by one of the people at Guinand. It's not bad, but I switched to a Brady black sailcloth which I think suits the watch well. It looks good on a (Toxic) NATO also, but I'm not sure I like the extra added height. Have not tried an ISO yet.
Note to Todd: Would it possible for you to offer a DLC buckle on the sailcloth strap?
Specs:

Case diameter: 40.6mm
Case thickness: 15.2mm
Lug width: 20mm
Lug to lug: 49mm
Weight: 85g
Crystal: domed sapphire with internal AR
WR: 200m
Movement: V7750
Buying Experience:

I purchased off of the Guinand website in late December, right after the DLC Series 40 was announced. At that time the site was all in German and I used Google Chrome for translation. Buying process was fairly simple using PayPal for payment. VAT was removed from the price when the website realized I was in the US. As this was over the holidays, and this was the first batch of DLC cases, there was some delay in start of production but the watch arrived at my door at the beginning of March. They kept me apprised of the progress with multiple emails (and even a pic of an early DLC sample) and always answered my questions within 24 hours. They even sent an email after shipping to confirm that the watch arrived and that I was satisfied. Very good customer service so far. The whole experience feels very similar to when I bought my first Sinn (EZM1 3H) in the early 2000's. They have a very flat, no frills organization, which I really like.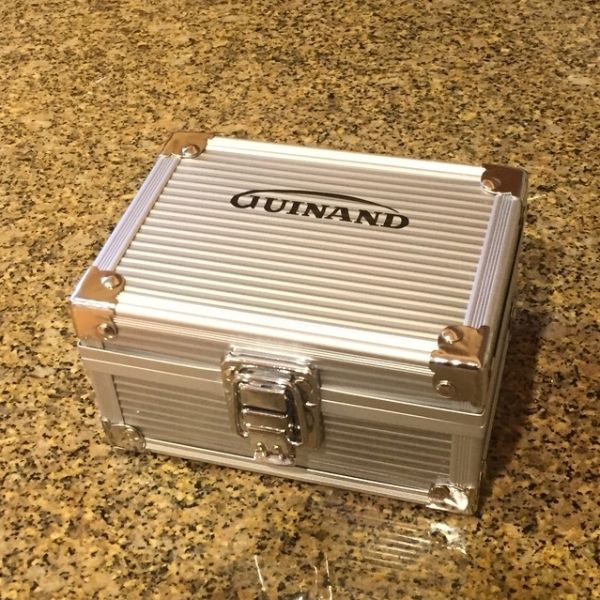 The watch comes in a padded metal box on a pillow. My wife declared this the "coolest box I've even seen", and she usually doesn't give two shits about any of my watch stuff. She and the kids then proceeded to argue over who got the box. The watch came with an invoice, guarantee card, and testing document. The testing document literally has the timing measurement and pressure test outputs taped to the sheet in pre-allocated spaces (very German). Shipping from Germany was very fast (3 days). Note that the final tests were done on March 1, and the watch was at my house on March 4.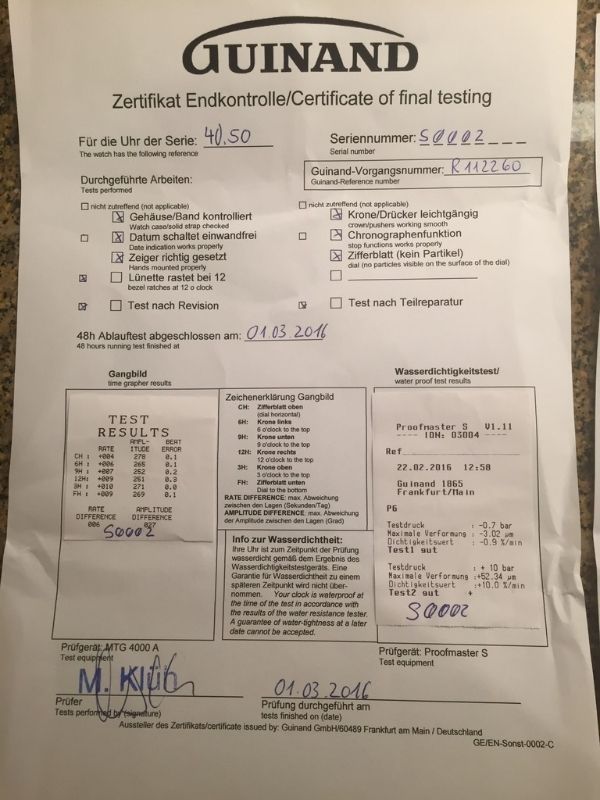 Overall, it's a hell of a lot of watch for $1400.
I think the company is living up to Herr Sinn's original goals of selling high quality watches at an affordable price, even though he's no longer officially affiliated with the company.
Info on the history of Guinand for those who have not been following its saga:
https://www.guinand-uhren.de/history.html