Even though I'm not a particular fan of Hublot, I do have some good friends at the boutique as well as in their PR agency, so I was able to snag an invite to a lunch at the Grand Havana Room this afternoon in honor of Hublot's new collaboration piece with Arturo Fuente cigars.
First off, it should be known that I'm a cigar-smoker of opportunity -- i.e. if someone gives me one, I'll smoke it -- otherwise, the hobby is somewhat lost on me. That said, it seems that quite a few die-hard watch collectors are also die-hard cigar smokers, so I guess I can see where the association comes from. Whatever. I gave up cigarettes six years ago, and to be honest, I'm over the whole light something on fire and suck on it thing. Unless it's weed, that is. Still, a good cigar is a good cigar, and apparently Fuente makes some nice smokes.
Anyway, for those who don't know, the Grand Havana Room is a private club for cigar smokers that operates in New York City, Beverly Hills and Moscow and invite-only, so this was a great opportunity to peel back the veil and see how the other half lives while simultaneously getting fed and watered.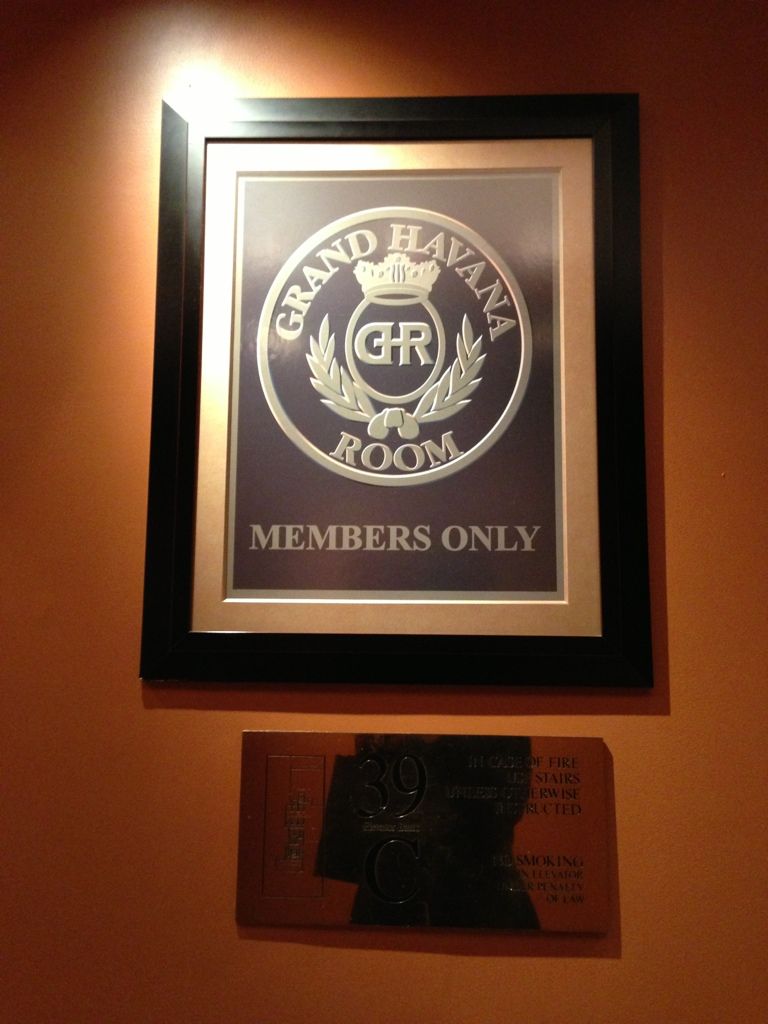 The club itself is on the 39th floor of a hi-rise overlooking 5th Avenue and is decorated almost exactly as you would expect (think lots of overstuffed leather chairs and sofas). It's hushed and smells like expensive tobacco, and the staff is always ready with a cigar or a light. For the event, we had a private dining room where we were treated to a three course lunch followed by an interview with Carlos Fuente, Jr. the president of the company that bears his family's name. That special guest I alluded to earlier? Paula Zahn, who apparently is a bit of a cigar and watch aficionado. Weird.
(a bit heavy for lunch on a Monday, but I'll take it)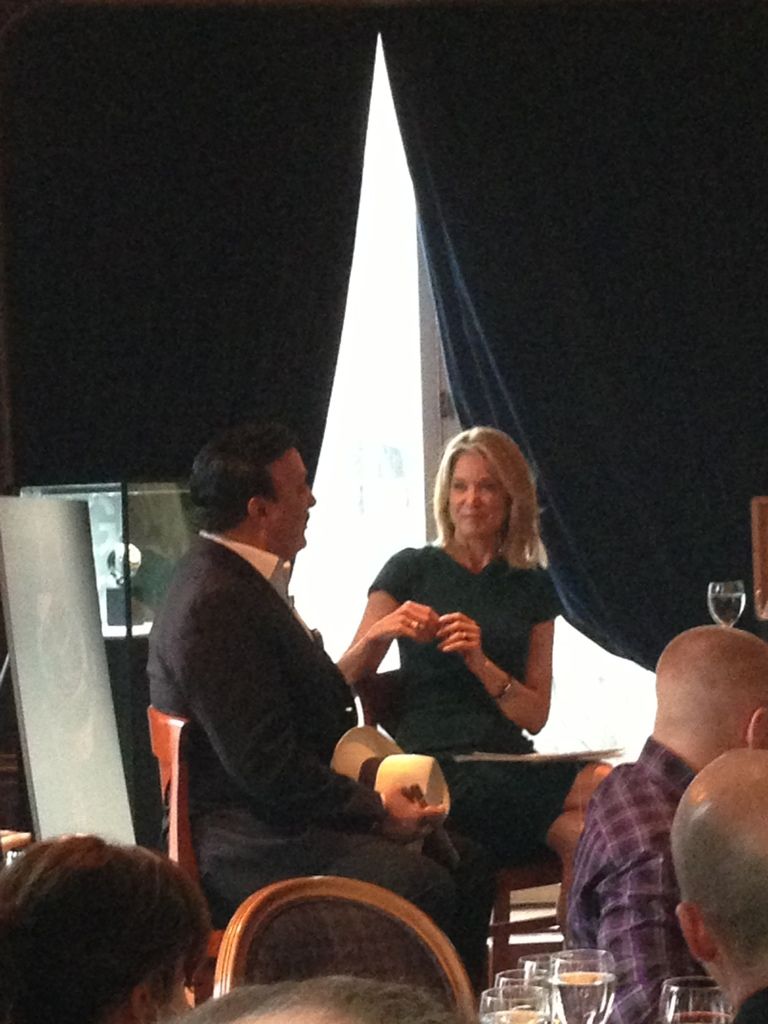 (Paula doing her thing)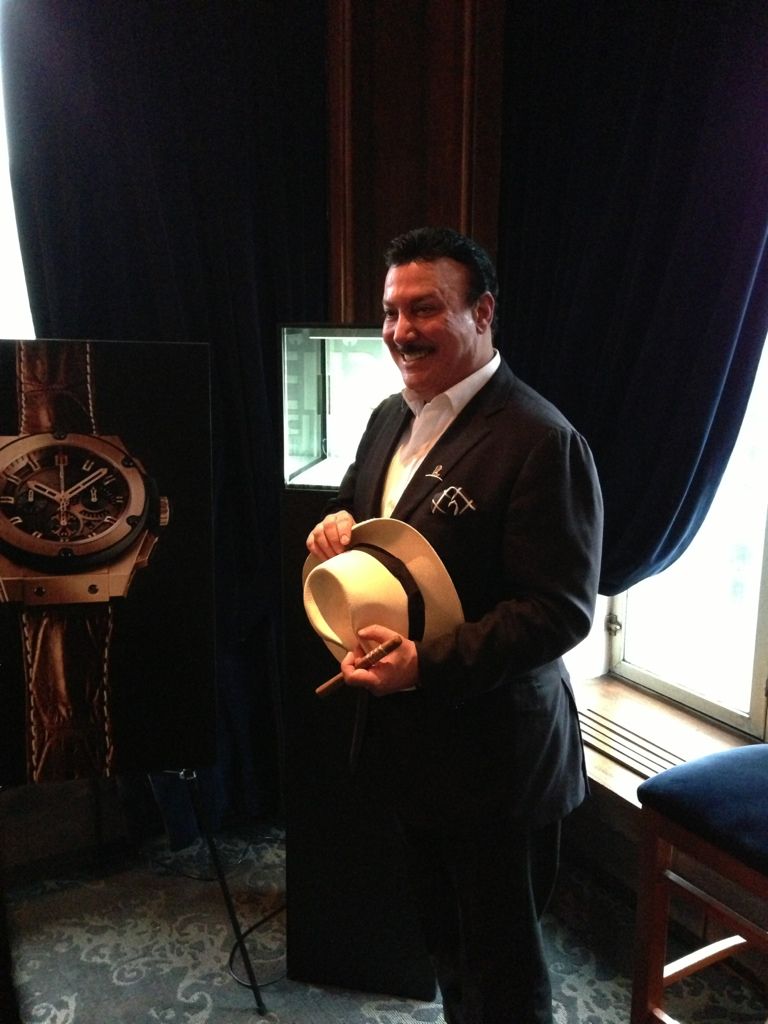 (Senor Fuente)
(the watch(es) of the hour)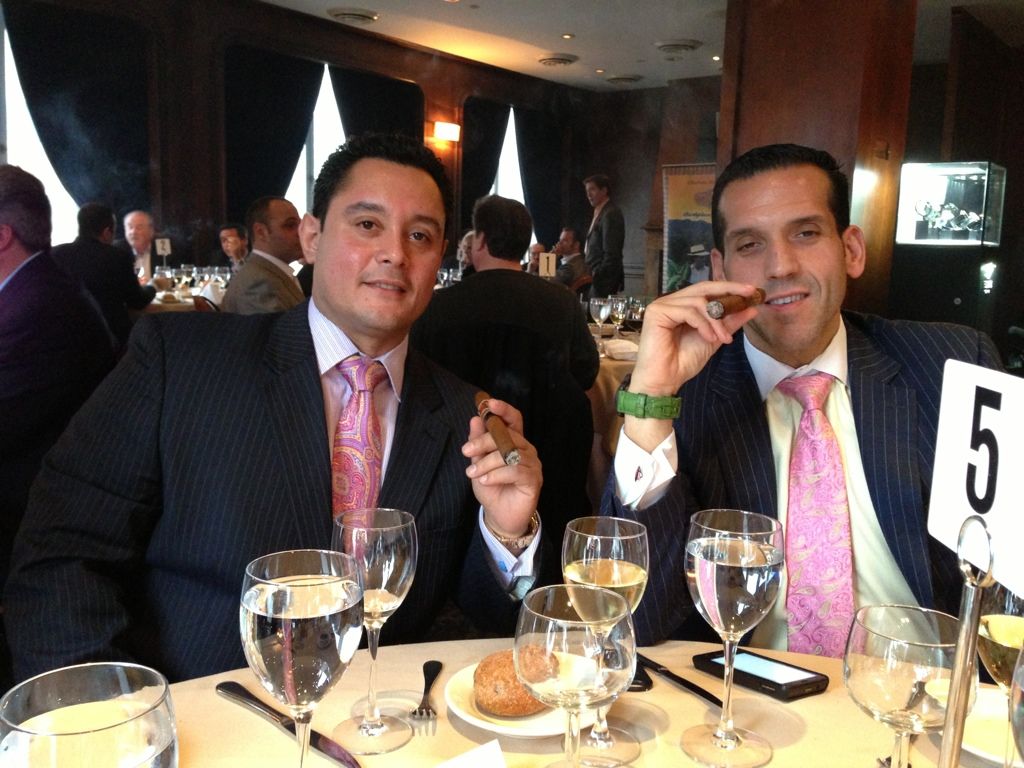 (a couple of the guests doing their thing at our table)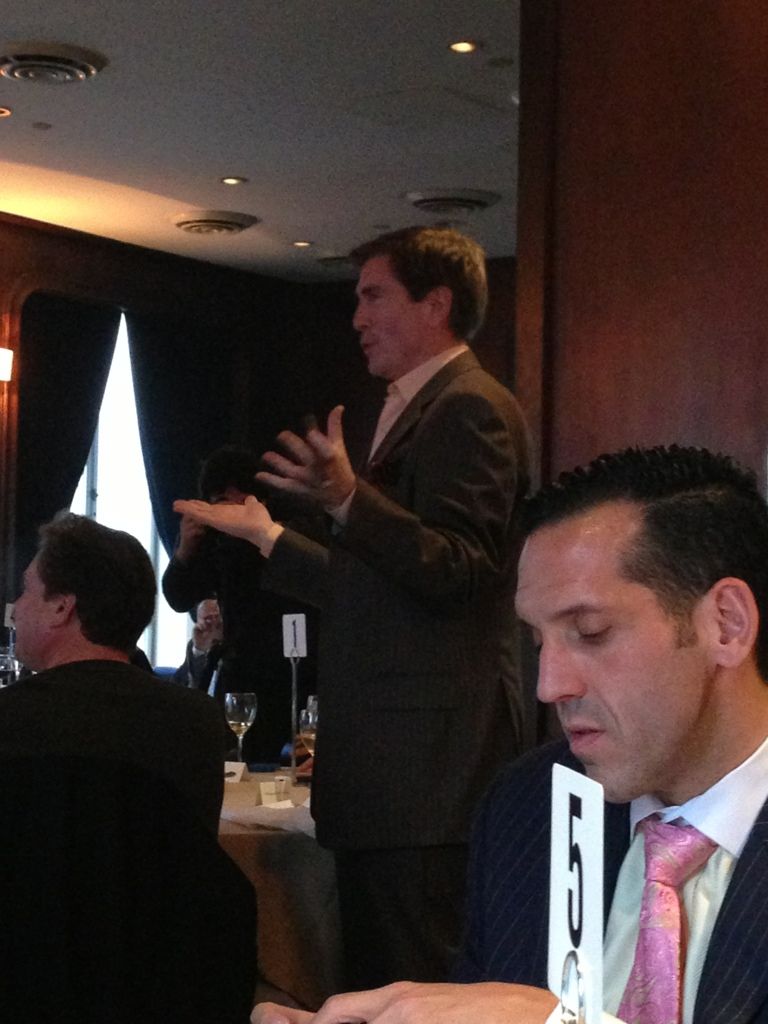 (some dilweed from Fox News -- maybe our gun-totin' members recognize him, 'cuz my libtard ass sure doesn't)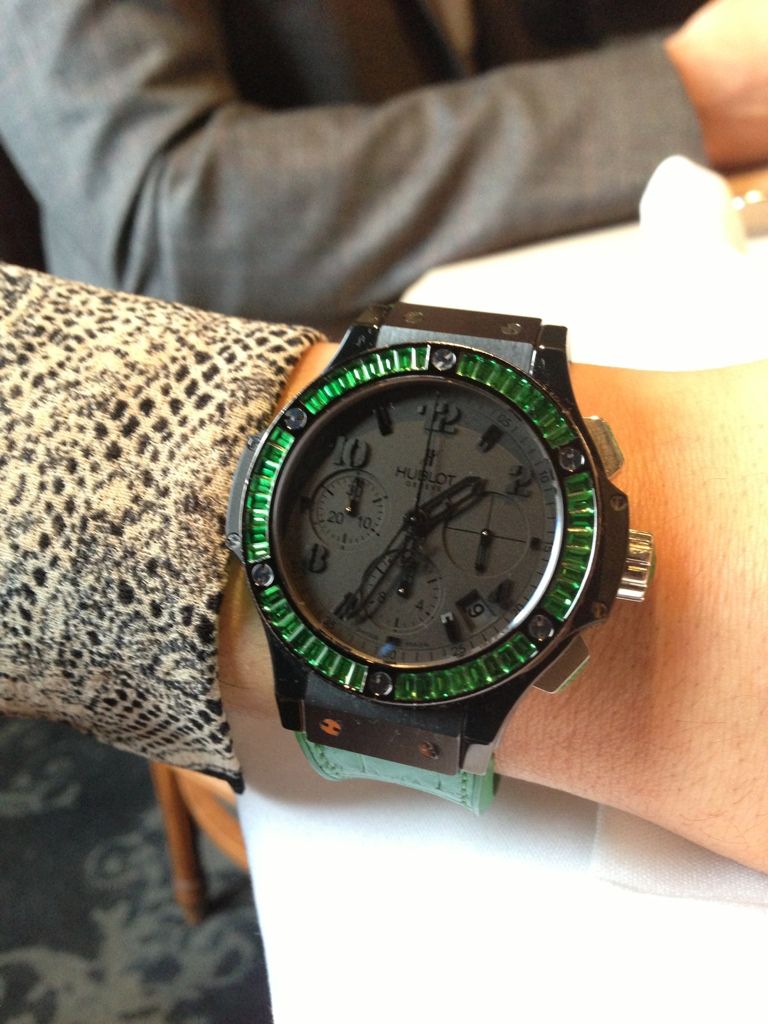 (Bita's Tutti-Frutti -- she's one of the boutique managers and an all-around great gal)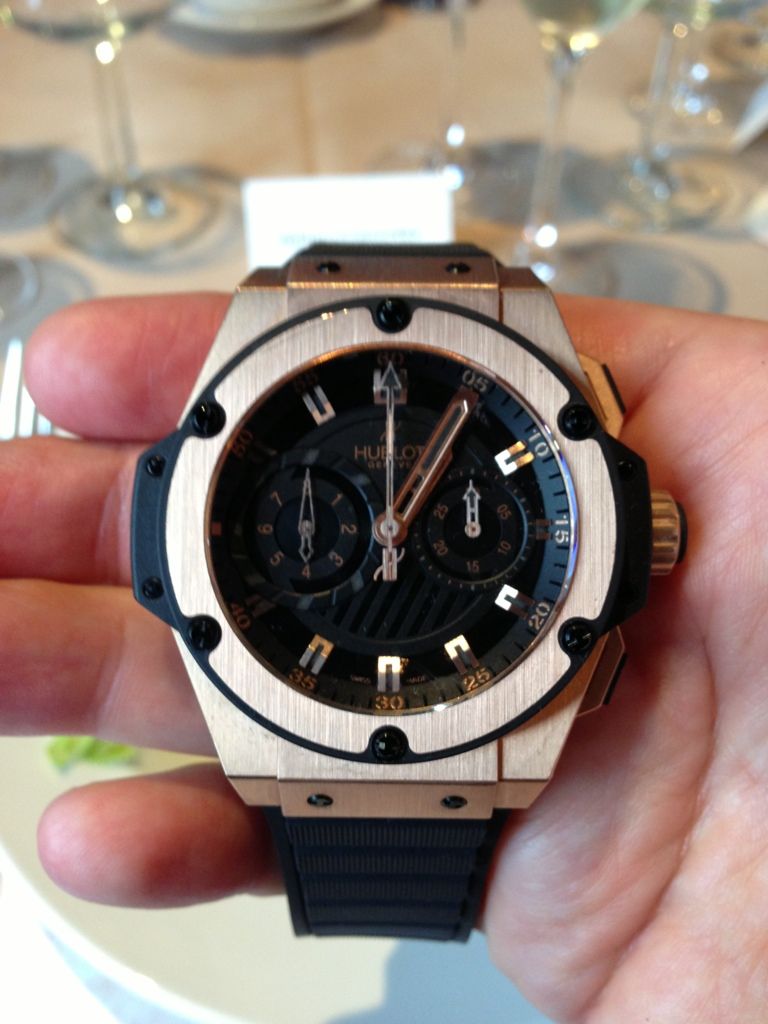 (my friend Howard's cousin's gold/ceramic King Power)
My takeaway? I'm still not a Hublot fan, but I do have a greater appreciation for cigars, and in particular, Arturo Fuentes. Most of the interview centered around the Fuente's organizations' philanthropic efforts, and it was pretty clear that Carlos, Jr. was thoroughly invested in giving back to a community that gave so much to his family. I had an opportunity to speak with him after the lunch was over, and it only served to reinforce my respect for the man.
Now I have to and buy some cigars. Right after I smoke this one, that is: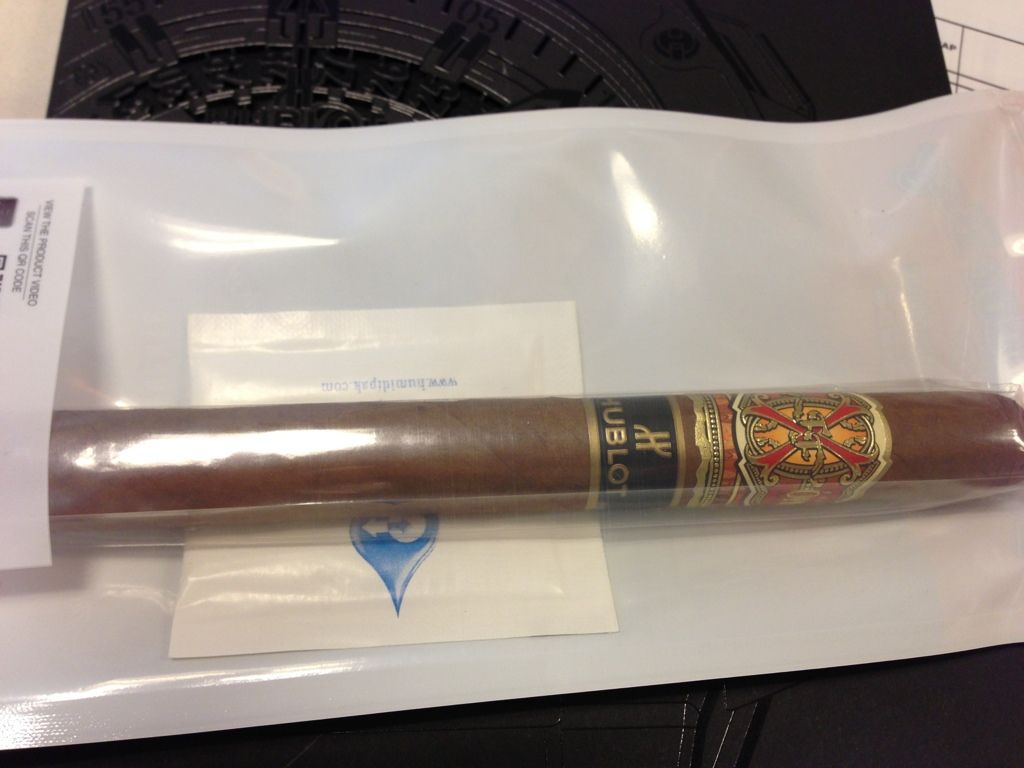 Regards,
Adam
PS - In case anyone was wondering how Luke (aka snoballz) is doing, he's just fine. Yeah, he was there too.